Worker Sues for Negligence, Receives $930,000 Award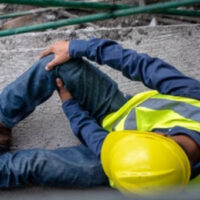 Workplace accidents can be devastating for employees. Many suffer catastrophic injuries and lifelong pain due to these incidents. While some workers cause their own injuries, many are caused by the negligence of their employers.
A workplace accident in 2017 left a Texas man seriously injured. He was working for Load Trail LLC as a trailer manufacturing worker when he was knocked to the ground by a forklift while lifting a toolbox. The man suffered from herniated discs and underwent lumbar fusion surgery to repair them. He also suffered from neck pain from the accident. Due to his injuries, he could no longer play with his children. He tried to go back to work on two different occasions, but he could no longer perform manual labor.
The man was not eligible for workers' compensation benefits, since Texas does not require employers to have workers' compensation insurance. The man, however, sued Load Trail for negligence. The case went into arbitration and the arbitrator found Load Trail negligent in the accident, since the company failed to provide a safe workplace. The man filed a motion to confirm the $930,000 arbitration award in the trial court. Load Trail, however, moved to vacate the award on the basis that the arbitrator "exhibited evident partiality."
Load Trail then appealed based on this alleged bias toward the employee. While the employer strongly believed that the arbitrator was partial to the injured employee, the appeals court ultimately confirmed the award in early January 2021. The reason was that Load Trail failed to establish specific facts that showed that the arbitrator was partial to the employee, as case law requires.
Workplace Safety
Workplace safety is a huge priority for workers right now, especially in the midst of a COVID-19 pandemic. Many workers are scared to get sick or injured in the workplace, so they rely on employers to keep them safe.
However, safety is not always a priority for companies. Their main focus is usually money, which means that workers are often left without appropriate safety equipment and proper training. This makes workplace accidents more likely to occur.
Under federal law, however, workers have various rights that they should be aware of. You have the right to receive workplace safety and health training and work on safe equipment. You have the right to receive safety equipment required for your job, such as gloves or harnesses. You also have the right to be protected from toxic chemicals, report dangerous conditions in the workplace and request an OSHA inspection. In addition, you may report an injury or illness and review records of work-related injuries and illnesses at your workplace.
Contact a Workplace Accident Lawyer
Workplace accidents can cause serious injuries. If your employer's negligence caused you to suffer injury, make sure you get the compensation you deserve.
Let the Houston workplace injury attorneys at The West Law Office, PLLC handle your workplace injury claim. Focus on your physical recovery and we'll focus on your financial recovery. Schedule a free consultation today by filling out the online form or calling 281-347-3247.
Resource:
businessinsurance.com/article/20210108/NEWS08/912338991/Texas-negligence-award-in-workplace-injury-suit-affirmed-Load-Trail,-LLC,-v-Jos