Woman Arrested in Texas Dog Attack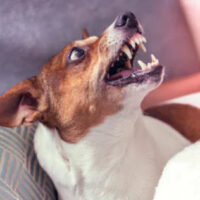 Dogs are not always the friendly and lovable creatures that humans make them out to be. Some can be very aggressive, biting and mauling strangers and even their owners. Dog bites have been known to cause serious injuries and even death, which is why negligent dog owners can be harshly punished.
A woman in Texas was recently arrested for a dog attack that happened a year ago. On December 10, the 53-year-old woman was booked into McLennan County Jail after she was located and arrested. She faces charges for a dog attack causing serious bodily injury.
The attack occurred on December 4, 2019 at Jones Park, located on West Avenue H in Temple. Police officers found a man being attacked by two dogs, with another man lying on the ground nearby. They tried to get the dogs off the man, but they continued to attack him. That was when police fired at the dogs. Another dog was nearby and all three fled the scene. However, the dog that was shot later died.
The dog's owner arrived and placed the dogs in her vehicle. Animal Control took possession of the dogs. Both men suffered serious injuries from the dog attack. They were taken to Baylor Scott & White Medical Center.
Temple police investigated and obtained an arrest warrant for the owner on January 10, 2020. She was located in Waco and arrested on December 10. Besides the dog attack charges, she also had warrants for failure to appear in court and driving with an expired license.
Caring for a Dog Bite
Many dog bites are serious in nature and require immediate medical treatment. However, if the bite is minor, you may be able to successfully treat it at home. To do so, you first need to stop the bleeding. You can do this by covering the bite with a towel. You should elevate the injured area and wash out the wound with soap and water. To prevent infection, you should put an antibiotic ointment on the wound, such as Neosporin. Then cover the wound with a sterile bandage. Change the bandage daily and reapply the ointment to ensure the wound does not get infected.
Keep in mind that you could get rabies from a dog bite if the dog was not vaccinated. Therefore, if you don't know the dog's health history, you should see a doctor to ensure you get the proper medications. People with compromised immune systems are more likely to develop a severe reaction to a dog bite.
Contact a Personal Injury Lawyer
Dog bites are nothing to laugh at. They can lead to serious injuries as well as lifelong impairments and deformities.
If you or a loved one was injured in a dog attack, contact the Houston dog bite lawyers at The West Law Office, PLLC. We will help you obtain at least the minimum amount possible so you can move on from such a traumatic incident. Schedule a free consultation today by calling 281-347-3247 or filling out the online form.
Resource:
fox44news.com/news/local-news/woman-arrested-in-connection-with-temple-dog-attack/