Texas Woman Killed By Dog Attack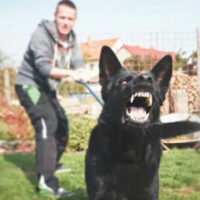 We see dogs everywhere we go. Many are seen on walks around the neighborhood. Many ride in their owners' vehicles. Some are even brought into stores.
Because we see dogs all the time, they pretty much blend in with the environment. They are like family to some people. While most dogs seem friendly enough, not all are nice. Many are mean and dangerous, looking for someone to kill.
Unfortunately, that was recently the case in Texas. A woman was attacked by a pack of dogs while walking to a local store. She died from her dog bite wounds.
The Porter woman would walk to the corner store almost every day. However, that daily routine changed at around noon on February 15. While on her daily walk, she was attacked by four dogs who had gotten loose from a neighbor's front yard. The woman was taken to Kingwood Hospital, where she later died.
Her family is devastated. The woman cared for her disabled husband. She was the mother of two children.
The sad part is that this fatal incident could have been prevented. The dogs should have been euthanized years ago, as this was not the first time they had attacked someone. In the past, the dogs attacked a child and other neighbors. So far, the dog owners are not facing any criminal charges. The family has hired a lawyer to bring about justice for their deceased loved one.
Texas Dog Bite Laws
Texas does not have a clear-cut law that explicitly punishes dog bites, unlike other states. For the most part, Texas follows the "one bite rule," which essentially means that dogs get a free bite. The dog owners are not punished for the first bite.
However, after that, the dog is on notice. It is now known that the dog has a tendency to bite, so if a subsequent bite occurs, the dog owner is considered to be more negligent.
Therefore, if a person is bitten by a dog in Texas, they must be able to prove that the dog owner was negligent. They must be able to prove that the dog owner was aware that the dog had bitten someone before or acted aggressively, and that the dog owner did not take reasonable measures to prevent the bite, causing the person to suffer damages.
This law applies to not only bites but also other injuries caused by dogs. For example, if a large dog knocks over a child and causes broken bones, the victim can file a lawsuit against the dog owner.
Contact a Dog Bite Lawyer
Dog bites are no minor occurrence. As seen in this case, a person can be brutally mauled by a dog and even killed.
If you or a loved one was involved in a dog attack, you need legal help right away. The Houston dog bite lawyers at the West Law Office, PLLC can file a claim against the negligent dog owner. We will fight for your legal rights and get you the compensation you deserve. Schedule a free consultation by calling 281-347-3247 or filling out the online form.
Resource:
click2houston.com/news/local/2021/03/02/mother-walking-to-corner-store-killed-by-pack-of-dogs-in-porter-family-says/