Texas Toddler Bitten by Alleged Service Dog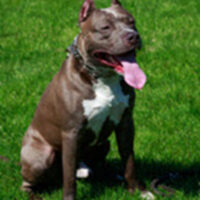 Any dog can bite. Even though canines are considered man's best friend, they can get provoked at any time, leading to dog attacks that cause serious injuries and even fatalities.
A toddler in Texas was recently mauled by a pitbull that was wearing a service vest. The incident occurred on January 9 at the Loose Caboose restaurant in Old Town Spring.
The 3-year-old girl walked into the restaurant with her family when the dog suddenly grabbed her by her face. The dog then knocked the girl to the ground and shook her like a rag doll. The girl's mother's friend quickly grabbed the girl and put her in her mother's arms. The three then ran to the bathroom to clean up.
The girl was screaming and the mother worked quickly to try to stop the bleeding. The woman left immediately with her dog, but the girl's father chased after them. He told them not to leave, but the woman said that the accident was the girl's fault.
The woman got in her vehicle and continued to leave. The girl's father got the woman's license plate number. Police have located the woman, who could face criminal charges.  It is unknown if the dog was actually a service animal or not.
The girl was taken to a hospital, where she got stitches for her facial injuries. Her family worries about the mental trauma the girl will face, as well as the physical reminders of the attack. There is also concern that the girl could have contracted rabies, so the family is awaiting news of the dog's medical history.
What is a Service Dog?
Because many establishments prohibit dogs unless they are service dogs, many owners place service vests on their dogs so they can go inside stores, restaurants and other businesses. However, there is more to being a service dog than simply placing a vest on a dog.
Service dogs are trained to assist people who have a physical, mental or emotional disability. The dog must be trained to perform specific tasks and must be well-mannered at all times. While almost any dog breed can be suitable for service work, not all dogs have the right personality to do so. Many dogs are aggressive or scared of humans, which would make them less desirable candidates.
Service dogs require proper, consistent training. They will need to learn the specific tasks that they will be helping humans with. For example, some dogs are trained to sense medical alerts, while others will remind their humans to take medications, grab items or calm them down during a panic attack. 
Contact a Personal Injury Lawyer
Dog bites can cause long-term injuries. Many cases result in scars and disfigurement. They can also cause significant mental trauma. It's important to obtain compensation for these damages.
The Houston dog bite attorneys at the West Law Office, PLLC can determine liability for your dog bite case. We will fight for your rights to compensation. To schedule a consultation, call 281-347-3247 or fill out the online form.
Resource:
fox23.com/news/trending/texas-toddler-bitten-by-dog-wearing-service-vest-inside-restaurant/HACLO3VYDNGFXAJ5NQH2IBFYRI/