Houston Tops Nation for Dog Attacks on Postal Workers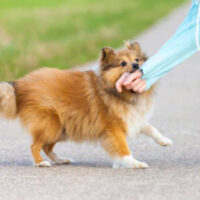 Dogs are often seen as man's best friend, but postal workers don't think that. In fact, many are stressed out when they come across dogs on their routes. While many canines are in fact friendly, some are mean and ready to attack anything that comes their way.
USPS workers, unfortunately, are not immune to dog bites. Many are bitten as part of their jobs. In fact, Houston takes the top spot for dog attacks. In 2019, 85 postal workers were bitten by dogs. That's more than any other city in the United States. Los Angeles ranked second on the list, with 74 dog bite cases. This is in line with the statistics, which show that Texas and California have the highest number of dog bite cases in the country.
There were other Texas cities that saw high numbers of dog attacks. There were 40 attacks in Dallas. San Antonio saw 28, while Fort Worth had 27 attacks in 2019. The good news is that overall, dog attacks were down, with 5,803 in the United States. In 2018, there were 200 more. There were 400 more in 2017, so it's hopeful that dog owners will become more aware of the dangers their dogs pose to postal workers and visitors in general.
That's the main problem. USPS workers are not getting bitten solely by loose and stray dogs. Even family pets have been known to attack visitors such as postal workers. Many dog owners do not consider their pets to be dangerous, but that is not always the case. Postal workers should be able to do their job safely. That's why dog owners should follow some simple rules when mail and packages are being delivered.
For example, dogs should be placed in a separate room when a postal worker arrives. That's because dogs can sometimes get too excited and bust through screen doors when visitors arrive. They should not be allowed to go outside. Wait until the postal worker leaves before retrieving your mail. Also, the dog should not be in your presence when the mail carrier comes. If a family member is taking letters from the worker, that can be seen as a threat to the dog.
Sometimes mail carriers can be threatened by dogs. If this is the case, you may be asked to pick up your mail at the local post office or other facility. This can be a major inconvenience, so do your part and keep your pet locked up in the presence of USPS workers. If your dog is seen roaming the neighborhood and appears aggressive, the mail carrier may even avoid your area altogether. This means your neighbors may have to pick up their mail elsewhere also. Your neighbors may not like this and this can cause tension.
Contact a Personal Injury Lawyer
Dogs may be cute, cuddly creatures to many people, but for postal workers, they pose a huge threat. Dog bites can cause permanent damage and even death.
Dog owners should be held liable for their dogs' actions. The Houston dog bite attorneys at The West Law Office, PLLC can provide you with proper legal representation. Call 281-347-3247 or fill out the online form to schedule a free consultation.
Resource:
khou.com/article/news/local/houston-leads-the-nation-in-letter-carrier-dog-attacks/285-b019c8d4-a19b-44c8-a527-6cf563ce8116