Understanding Rollover Accidents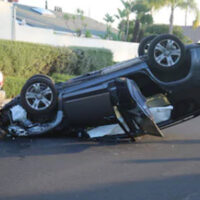 Car accidents happen on a daily basis. A car can get involved in an accident for a variety of reasons. A vehicle can hit another vehicle, a pedestrian, animal or inanimate object such as a stop sign or guardrail. A car can be T-boned or rear-ended. It can even roll over.
A rollover accident occurs when a car flips and ends up on its roof. Any car can roll over with enough impact, but SUVs and other light vehicles are known for having a high rollover rate. Rollovers often occur when a vehicle trips by hitting a curb or soil. Negligence and poor weather conditions can also lead to rollover accidents. So can a sudden swerve or other maneuver to avoid an accident. In fact, 95% of rollovers involve just one vehicle.
A rollover crash is serious. Many people are trapped inside their vehicles when such crashes occur. Some people are ejected. Many suffer severe injuries and even death.
What Causes Rollover Crashes?
As mentioned before, vehicle type is a factor. SUVs, pickup trucks and vans are more likely to roll over. High speeds can also cause rollovers. Speeding is involved in 40% of fatal rollovers. Most occur when the speed limit is over 55 miles per hour.
Alcohol is also a factor. Half of fatal rollover crashes involve alcohol consumption. This is because rollovers are often caused by loss of control. Alcohol affects one's judgment, coordination and vision, making crashes more likely to occur.
Location is also a factor. Rollovers often occur in rural areas. This is because the roads tend to be undivided, with no barriers.
More than 90% of the vehicles involved in rollovers were involved in routine driving maneuvers at the time. This means that driver behavior, such as speeding, impaired driving, distractions and inattentiveness plays a huge role.
Types of Rollovers
There are two main types of rollovers: tripped and untripped. Most rollovers are tripped. Tripped rollovers occur when a vehicle leaves the road, sliding sideways. The vehicle then digs its tires into soft soil or strikes a curb, guardrail or other object. The tripping force then causes the vehicle to roll over. A steep slope in an off-road environment can also cause a vehicle to roll over.
Untripped rollovers are much less common. They occur about 5% of the time. These rollovers have no tripping mechanism. Instead, they occur when a vehicle tries to avoid an accident by making an avoidance maneuver. For example, a vehicle may swerve to the right and then overcorrect quickly, causing the vehicle to roll over in the process.
Contact a Personal Injury Lawyer
A rollover car accident can result in serious injuries and even death. If your injuries were caused by someone else's negligence, make sure you seek legal help.
Let the Houston auto accident attorneys at The West Law Office, PLLC assist you with your car accident case. We can determine liability and help you get the compensation you deserve. Schedule a free consultation by calling 281-347-3247 or filling out the online form.
Resources:
safercar.gov/Vehicle-Shoppers/Rollover/Types-of-Rollovers#:~:text=NHTSA%20data%20show%20that%2095,the%20vehicle%20to%20roll%20over.
safercar.gov/Vehicle-Shoppers/Rollover/Causes