Dog Bite Claims Rose During Pandemic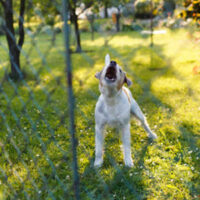 Last March, the United States went into lockdown mode due to the coronavirus pandemic. Americans became stressed out as they had to work from home, cancel vacation plans, and pretty much live life from home, isolated from others. It's believed that the family dogs have picked up on this increased anxiety. As a result, dog bites increased over the past year.
Now dogs are facing anxiety issues once again with their owners returning to work. The pandemic has become less serious as infection numbers are decreasing and people are getting vaccines. This has allowed workers who were telecommuting to return to the office. Dogs were getting used to having their owners home all day. Now they are missing their owners and turning to destruction and aggression to deal with their boredom.
In March 2020, State Farm reported record numbers in terms of both the number of dog attacks and the amount of money paid for these claims. There was a nearly 22% increase in dog bite claims when comparing March 2019 and March 2020.
Millions of people are bitten by dogs every year. In 2020, there were 16,991 dog bite claims in the United States, with $853 million paid in claims. The average claim amounted to approximately $55,000. California was ranked #1, with 2,103 claims and $135 million in payouts. Texas, Florida, New York, New Jersey, Illinois, Pennsylvania, Michigan, Ohio, and Georgia rounded out the top 10.
National Dog Bite Prevention Week
This year, we celebrated National Dog Bite Prevention Week from April 11-17. The focus was on transitioning pets to a post-pandemic world. Many people adopted pets during the pandemic to deal with their loneliness and boredom of being quarantined at home. Now, restrictions are being lifted and many dog owners are returning to work. Children are also returning to school and engaging in after school activities. This is a huge change for dogs who saw their owners 24/7 (or pretty close to it). Now, dog owners may be away from the home for 10+ hours per day, resulting in boredom for dogs. This can lead to destructive behaviors, including aggression and biting. It is believed that we may see yet another increase in dog bites in the coming months.
There are 85 million dogs living in households in the United States. While you may think you have the sweetest dog who wouldn't even hurt a fly, dog owners need to realize that any dog can bite. A dog of any size can be provoked and attack a person, causing serious injuries. Children and the elderly are more susceptible to serious dog bites.
Contact a Personal Injury Lawyer 
A dog bite is a serious issue. Even smaller bites can lead to infection and scarring.
If you or a loved one was injured in a dog attack, seek legal help from the Houston dog bite attorneys at The West Law Office, PLLC. We can represent your case and help you get justice. Call 281-347-3247 or fill out the online form to schedule a free consultation.
Resource:
news4jax.com/pets/2021/04/12/dog-bite-claims-soared-as-coronavirus-lockdown-began/