Texas Pedestrian Killed By Off-Duty Police Officer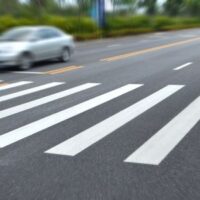 Many Texans travel from Point A to Point B by walking. People walk from place to place because they enjoy doing so and like getting exercise. Others do it because they have no other transportation. In any case, walking along a roadway with other vehicles can be dangerous, especially in the early morning hours when it's still dark and visibility is limited. A pedestrian crash is more likely to occur.
Sadly, a Texas man was recently killed in a pedestrian crash in Sherman. The fatal accident occurred on the morning of April 7 on US 75 near Lamar Street. The man was walking in construction zones when he was hit by an off-duty police driver driving a pickup.
The officer called 911 immediately following the crash, but the pedestrian, a 24-year-old man from Sherman, died at the accident scene. The road was closed for three hours as law enforcement collected evidence. Sherman Police Department is investigating the fatality accident. The officer, a 14-year veteran, is cooperating with the investigation.
When Police Officers Cause Crashes
Anyone can cause a car accident, and police officers are no exception. However, their actions are scrutinized more carefully, whether they are on or off duty. Police officers have no immunity, so they can still be liable for a crash. While police cars can act as emergency vehicles and break some laws, such as speed or run red lights, they should use their sirens and act with caution to avoid harming the public.
If you are involved in a car crash with a police officer, follow the same protocol that you would for any type of accident. Do not admit fault, even if the officer is trying to intimidate you. Do not feel like you have to say you are sorry. Do not let the police officer tell you that you are at fault. Let a court decide based on all the evidence.
If the officer was off duty at the time, then file a claim as normal. However, if the officer was on duty and driving a patrol vehicle, then you should hire a lawyer to find out the next steps. A police officer who is on duty at the time of a crash is often covered by the city's auto insurance policy. Therefore, a different claims process may apply, especially since you are now dealing with a government agency. Be patient, as the process could take much longer. The police officer could still be held liable, but the city, county or state may be the one paying out the damages, depending on the entity involved.
Contact a Personal Injury Lawyer 
Car accidents can happen at any time and be caused by anyone. Nobody is immune and the results can be catastrophic or even fatal.
If you were injured in a car accident caused by a police officer or other third party, seek legal help from the Houston pedestrian accident attorneys at The West Law Office, PLLC. Let us assess your case and determine liability. Schedule a free consultation by calling 281-347-3247 or filling out the online form.
Resource:
kten.com/story/43620443/major-crash-on-us75-near-bearcat-stadium-1-confirmed-fatality