Pedestrian Hit By 2 Cars, Killed In Houston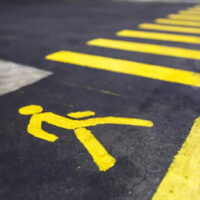 Drivers need to watch out for pedestrians at all times, but that can be difficult on busy highways. Nobody is expecting to see people walking down the middle of the freeway. Plus, these roads are not made for pedestrian traffic due to the speeds of the vehicles. Many highways have speed limits of 70 miles per hour or more and there are a lot of drivers who go much faster.
A man was killed after he was hit by not one, but two, vehicles on the Southwest Freeway. The fatal accident occurred on the evening of September 28 in the 5600 block of I-69 Southwest Freeway in Houston.
A 69-year-old man was in a lane of traffic on the freeway when he was hit by a vehicle going north. The driver fled the accident scene. They still have not yet been located. There is no description of the vehicle.
The man was then hit by a second vehicle, a Chevrolet Equinox. That driver did stop and call 911. Paramedics arrived, but the victim had already died.
The second driver was interrogated by police. They were determined not to be impaired and subsequently released. It is unknown why the man was walking on the freeway.
Pedestrians on Freeways
It's often illegal for pedestrians to walk on freeways. Why would somebody want to do so anyway? It's so dangerous, with traffic moving at very high speeds.
However, there are legitimate situations in which someone may need to cross a freeway or walk alongside it. For example, if someone breaks down, there may be people on the freeway for these reasons:
Helping someone. If someone breaks down on the freeway, a family member or Good Samaritan may be crossing the freeway to help them.
Walking on the shoulder. A stranded driver may be waiting for help to arrive or walking to a gas station.
Fixing their vehicle. A handy driver may be on the side of the road fixing their flat tire or making some other repair to their vehicle.
There are factors that can make pedestrian accidents likely to occur on freeways. One example is visibility issues. Pedestrian accidents are more likely to happen at night. This is because visibility is reduced, plus drivers are not expecting to see people walking on the roadway. Intoxication is another possible issue. If a driver is under the influence of drugs or alcohol, they are more likely to hit a pedestrian.
Contact a Personal Injury Lawyer
While most pedestrian accidents are caused by unsafe drivers, sometimes pedestrians contribute to accidents by being in places where they do not belong, such as on freeways.
Pedestrian accidents can be deadly, as seen in this case. If you have been affected, seek legal help from a Houston pedestrian accident attorney from The West Law Office, PLLC. We know how serious these injuries can be. To schedule a free consultation with our office, fill out the online form or call 281-347-3247.
Source:
abc13.com/pedestrian-killed-in-hit-and-run-southwest-freeway-man-driver-flees-after-hitting-i-69-over/12279460/