Pedestrian Killed By Drunk Driver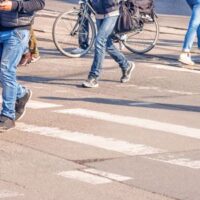 Drunk driving is a serious issue that leads to many accidents in Houston. Sadly, intoxication recently led to a pedestrian's death. The incident happened at 6400 Westheimer Road in west Houston on the morning of October 15.
Two women were crossing the street at the intersection of Westheimer Road and Winrock Boulevard when a pickup truck hit one of the women. The driver tried to flee the accident scene, but multiple witnesses stopped the driver and passenger. They kept the suspects there until police arrived. One of the women died at the accident scene.
A similar accident happened in March when a husband and wife were hit and killed on the same street by a drunk driver. Police urge people to use crosswalks, especially on such a busy street as Westheimer Road. There is a lot of speeding and jaywalking on the road, so it's best for pedestrians to stay as safe as possible.
Pedestrian Safety
Thousands of pedestrians are killed on roadways in the United States every year. In approximately half of pedestrian crashes, alcohol is involved. Of those, nearly one-third involve intoxication on behalf of the pedestrians.
High speeds increase the risk of an accident. Location and time of day are also factors. Pedestrian accidents are more likely to happen at night, when visibility is reduced. These crashes also tend to happen in urban areas, where there are more vehicles and people. Children and the elderly face the highest risk of being involved in a pedestrian accident.
Here's how you can stay safe as a pedestrian:
Carry a flashlight and wear reflective clothing if you plan to be out at night, as this will increase your visibility.
Cross streets at intersections and crosswalks when possible.
Try not to walk in the street. Instead, use a sidewalk or walking path.
Stay alert. Avoid distractions such as cell phones and earbuds while walking.
Don't walk if you are under the influence of drugs or alcohol. They will impair your coordination and judgment.
Here are some tips for drivers:
Always stop for pedestrians in the crosswalk.
Look for pedestrians everywhere. They may be out and about in darkness and poor weather, but they are harder to see.
Be extra cautious in school zones and neighborhoods, as children may be present.
Slow down in urban and pedestrian-heavy areas.
Be alert when backing up in parking lots, as you could hit a child.
Avoid distracted driving. Don't text or engage in other activities that take your eyes off the road and your hands off the wheel.
Contact a Personal Injury Lawyer
Unfortunately, intoxication is a major factor in pedestrian accidents. Many people have been killed by drunk drivers.
No matter how your crash happened, you need to ensure you receive compensation for damages. A Houston pedestrian accident attorney from The West Law Office, PLLC can help. To schedule a free consultation, call 281-347-3247 or fill out the online form.
Source:
abc13.com/westheimer-road-pedestrian-killed-drunk-driving-death-woman-hit-by-truck-houston-dangerous-roads/12331820/