Police Officer Strikes, Kills Pedestrian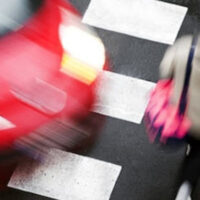 Pedestrian accidents are always devastating. It's especially sad when a police officer hits a pedestrian.
This recently happened in Houston. A pedestrian was hit and killed by a police vehicle. The fatal accident occurred on the morning of December 30 on Interstate 10.
 Eastbound Interstate 10 before McCarty Street was closed after a Houston Police Department vehicle hit a pedestrian on the freeway. The police officer was driving in a marked patrol car. It was responding to a call but not using lights or sirens when it hit a pedestrian on the main lanes. A man was in the middle of the freeway.
The officer stopped immediately and noticed the body. The Houston Fire Department responded to the accident scene and pronounced the man dead. The Vehicular Crimes Division is continuing to investigate the case. All eastbound lanes reopened after several hours.
 Pedestrians on Highways 
Highways have vehicles traveling at high speeds, so any crashes can be deadly. It is illegal for pedestrians to be on highways, so why are so many people hit by cars on these roads? Many instances of people crossing highways involve broken-down vehicles. Here are some examples.
Crossing a highway. Pedestrians may have to cross a highway if they are assisting someone whose vehicle broke down or need to pick up something that fell off their vehicle.
Walking or standing on the shoulder. When a vehicle breaks down, the motorist may need to get help. They could be inspecting the vehicle or walking toward a gas station or police station to get help.
Working on vehicles. Pedestrians may be in or near the roadway when they are taking care of mechanical problems with their vehicle. They may also need to push it out of the road.
Helping accident victims. When a person is helping an accident victim, they may need to walk along the highway or even cross it to wait for police and other emergency assistance.
Walking on the roadway after dark. Walking along the highway after dark is especially dangerous. The chances of being hit by a driver increases dramatically.
Because of the dangers involved with crossing a highway, pedestrians need to exercise extreme caution. Drivers are not expecting pedestrians to be on the freeway. Plus, there may be visibility issues, such as poor lighting or darkness. Other possible driver-related issues include:
Drunk driving
Distracted driving
Inattention 
In any case, pedestrians should avoid walking along and crossing highways whenever possible. Who is at fault? Liability in these accidents will depend on the facts of the case.
 Contact a Personal Injury Lawyer
While motorists need to be wary of pedestrians, people also need to watch where they are walking. The freeway is not a safe place for pedestrians.
Injured in a pedestrian accident? A Houston pedestrian accident attorney from The West Law Office, PLLC can help determine liability. To schedule a free consultation, call 281-347-3247 or fill out the online form.
Source:
cw39.com/traffic/east-freeway-closed-hpd-strikes-pedestrian-fatal/