Hit And Run Driver Kills Man On Skateboard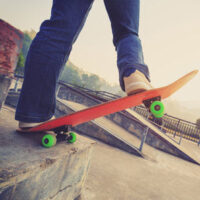 Many people love riding skateboards — even middle-aged men in their 40s. A Texas man who embraced the skateboarding community was recently killed in a hit and run crash in east Houston.
The 46-year-old man was on his skateboard in the early morning hours of September 30 when he crashed into a Cadillac on Norwood Street. The man was on Harrisburg Hike and Bike Trail with a friend at the time of the crash. The friend called 911 for help, but the man died at the accident scene.
Surveillance video from Open Door Mission, which is across the street from the crash, showed the driver of the car stopping several blocks away. He got out of his car to check the front of his vehicle and drove off. The engine appeared to be smoking.
The driver has not yet been caught. Police and family members are hoping that someone can identify the dark-colored Cadillac and its driver.
Friends and family members say that the victim, while 46 years old, acted like he was much younger. He loved skateboarding and could often be found on an electric skateboard. While his relatives were not surprised he was out late at night, they were shocked that someone would hit him and leave him to die without stopping.
The Houston Police Department is investigating the case. It's likely that METRO light rail cameras may have caught the crash on camera as well.
Hit and Run in Texas
Drivers have a duty to stop, exchange information, and render medical aid after a car crash. Leaving the scene of an accident in Texas is a serious crime, especially if the victim suffered serious injury or death. Depending on the circumstances, a driver can face felony charges. Because the victim in this case was killed, the driver will likely face felony charges if caught.
Even when a driver flees the accident scene, the police have ways to link people and vehicles to accidents. For example, they may use license plate numbers and physical evidence such as car parts that came off from the crash, fingerprints, car damage, and injuries to identify the vehicle and driver.
The penalties for hit and run are stiff. If serious injury or death occurred, a person can be charged with a third-degree felony, which is punishable by 2-10 years in prison. Even if the injury is not serious, the driver could still face fines and felony charges.
Contact a Personal Injury Lawyer
Drivers must always stop after being involved in an accident. Hitting a person and then fleeing the accident scene, especially when the victim dies, is a serious issue that can come with harsh penalties.
If you or a loved one was injured in a hit and run crash, seek legal help right away. Count on a Houston hit & run attorney from The West Law Office, PLLC for assistance. We understand the complexities of these cases. Schedule a free consultation to learn more about your legal options. Call 281-347-3247 or fill out the online form.
Source:
abc13.com/skateboarder-hit-by-car-houston-and-run-crash-leaves-man-on-skateboard-dead-east-driver-flees-after-killing-norwood-street/12282033/