1 Killed In Chain Reaction Crash On Katy Freeway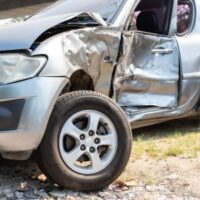 The Katy Freeway is busy with all kinds of vehicles, from passenger vehicles to big rigs. Getting into a crash with any of these automobiles can lead to serious injuries and even death.
Sadly, this was recently the case in Houston, in The Heights area. A vehicle collided with a semi truck on the Katy Freeway, killing one person. The fatal accident occurred on the morning of September 19 near Washington Avenue.
A Chevy Impala was speeding on the freeway when it rear-ended a big rig. This accident led to others, with a pickup truck bouncing off a wall and hitting the speeding Impala. The Impala caught fire and the driver died. The body was so badly burned that law enforcement officials could not identify it at this time.
The Impala also had rear-end damage, which suggests that another vehicle must have rear-ended it. Police are looking for that driver. All lanes of the Katy Freeway were shut down for nearly six hours.
Car Fires After Crash
Car fires happen quite often after accidents, but they shouldn't. When a car catches fire, it is often due to some sort of defect. Here are some common causes of car fires:
Leaking fuel tanks and lines. Fuel tanks should have anti-puncture shields and fuel cell bladders. Defective fuel lines are also dangerous, as they may rupture during an accident. Even a small leak can quickly lead to a fire. Leaking flammable materials, such as oil and fuel, can ignite when exposed to a spark or heated metal.
Electrical system failures. Electrical fires usually begin in or around the dashboard. A serious accident can sever cables and create sparks, which can ignite fuel. Faulty wiring in ignition systems can also spark fires.
Mechanical defects. A mechanical defect may result in the ignition of flammable combustibles or an explosion.
Engine failures. Many car fires originate in the engine compartment.
Faulty battery. When a battery is not designed correctly, corrosion may form on terminals, causing a fire.
While airbags are supposed to help those involved in crashes, it's possible that they may explode due to the impact of a crash.
Well-maintained vehicles are less likely to catch fire in a crash. You can also prevent fires by not transporting gasoline and not smoking inside your vehicle.
When a fire starts, occupants inside the vehicle can get badly burned or even killed. If the fire was caused by a defect, the manufacturer could be held liable for any damages. Contact a personal injury lawyer to understand your rights and legal options.
Contact a Personal Injury Lawyer
When multiple crashes happen, the risk of getting injured or killed gets higher. This is especially true when a big rig is involved.
Injured in a crash? Seek legal help from a Houston auto accident attorney from The West Law Office, PLLC. We'll assist you in getting the compensation you deserve. Schedule a free consultation today by calling 281-347-3247 or filling out the online form.
Source:
abc13.com/katy-freeway-deadly-crash-18-wheeler-westbound-lanes-closed-houston-traffic/12240058/