Car Accidents Caused By Animals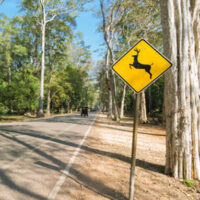 While driving into the country may seem beautiful and peaceful, dangers still lurk on the roadways. The most common one is animals. Wild animals and pets can enter the roadway with no warning, causing you to lock up your brakes. If you're lucky, you'll avoid a collision. In a worst case scenario, though, you could die.
While you often hear about cars colliding with people, other vehicles and objects such as trees, not much is mentioned about car accidents involving animals. They account for more than 260,000 crashes each year. These crashes result in more than 150 fatalities.
Deer are the most common animal found on roadways, followed by squirrels, birds, cats, dogs, rabbits, racoons, skunks, turtles and coyotes. While a squirrel or small bird is unlikely to cause major damage to your vehicle, deer, dogs and coyotes can.
Close to 80% of drivers have experienced a near-collision with an animal. What do we do to avoid them? Most drivers swerve to avoid the animal. Others do nothing and hope the animal gets off the road in time. Others hit their brakes. Law enforcement officials say that in many cases, hitting the animal is the safest thing to do. Hitting your brakes is also a good alternative.
Some crashes with animals result in fatality. Texas is the top state for fatalities, with 12% of animal-involved crashes ending in fatality. Next on the list was New York, with 5%. In more than 60% of animal-related accidents, though, the animal is killed. So the risk of a person getting killed in these crashes is very small.
You can avoid hitting animals by being attentive while driving. Be aware of signs warning you of wildlife. Slow down and drive defensively. Before swerving, make sure it is safe to do so. Always be prepared and think about what you would do if an animal were to run out in front of you.
Who is to Blame?
When you are involved in a crash involving an animal, who is to blame? While you obviously cannot sue an animal for compensation for damages, there are some other ways to get compensation. If the animal belonged to someone, you may be able to receive compensation from the pet owner. For example if a dog, horse or cow got loose from a farm and you hit it, causing major damage to your vehicle, then the owner could be held liable. You would likely be able to receive compensation from the person's homeowner's insurance.
If you are unable to identify the owner of the animal or you hit a wild animal, you can receive compensation from your own insurance company. You could receive compensation under your comprehensive policy. You would generally be considered not at fault, so filing a claim should not raise your insurance rates.
Contact a Car Accident Lawyer
While car crashes are often caused by other vehicles, sometimes an animal may be to blame. When this happens, it may be hard to get proper compensation for damages.
The Houston auto accident lawyers at the West Law Office, PLLC can assist you with your car accident case. To schedule a free consultation, call 281-347-3247 or fill out the online form.
Resource:
havahart.com/wildlife-on-the-road#:~:text=It's%20a%20serious%20safety%20concern,and%20over%20150%20human%20fatalities.