Woman Injured in Texas Semi Truck Crash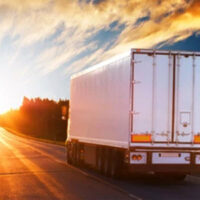 Semi truck crashes can be scary. That's why drivers try to avoid them on Texas' busy roads. However, sometimes accidents involving big rigs still happen. Many times, they end in fatality.
Fortunately, in a recent crash in Texas, everyone survived and is in stable condition. The incident occurred on the afternoon of December 8 in San Angelo on Houston Harte, near North Howard Street. Three vehicles —a semi truck, a GMC pickup and a Honda Accord — were involved in the crash.
The exact cause of the crash is unknown. However, the truck driver did say that the driver of the Honda Accord slammed on their brakes, so he likely could not stop on time, pinning the Honda Accord against a retaining wall. The cause of the crash is under investigation.
Inside the GMC pickup was a woman and child. Both were seen crawling out of the sunroof. The 33-year-old woman and her 4-year-old daughter were taken to Shannon Hospital. Both are in stable condition.
However, the driver of the Honda, a 64-year-old woman, was trapped. A Good Samaritan smashed a window to try to rescue her, but couldn't get her out. First responders tried for two hours to extricate the woman. They had to bring in heavy equipment to move the big rig off the Honda to free the woman. She was finally freed and placed inside an ambulance. She is hospitalized in stable condition.
Why Are Semi Truck Crashes So Dangerous?
Semi truck crashes are dangerous in a number of ways. Drivers haul a ton of weight — often tens of thousands of pounds — so if a truck collides with another vehicle, the results can be disastrous.
Truck drivers can make their trucks dangerous. If they fail to follow hours of service regulations and work all day and night, they can easily get fatigue. Exhaustion can cause them to make mistakes, and these mistakes can lead to poor maneuvering and fatal crashes.
In addition, many truck drivers use stimulants to keep them awake. They may engage in drug or alcohol use, causing them to suffer from impaired judgment. Truck drivers may also be bored and turn to smartphone use and other distractions to stay entertained while on the road. This can also lead to serious crashes.
Trucking companies can also contribute to dangerous crashes. If they fail to properly maintain their trucks, they can cause brakes to fail and tires to blow. When these incidents occur on a busy freeway, someone is bound to get injured.
Contact a Personal Injury Lawyer
Semi truck crashes are typically fatal, especially when a much smaller vehicle is involved. The woman involved in this accident is very lucky to be alive.
If you or a loved one was involved in a semi truck accident, seek legal help from the Houston truck accident lawyers at The West Law Office, PLLC. We will offer you the advice you need to move on from such an incident. To schedule a free consultation, fill out the online form or call 281-347-3247.
Resource:
gosanangelo.com/story/news/2020/12/08/pickup-rolls-houston-harte-after-collision-semi/6499415002/