Woman Faces Intoxication Manslaughter Charges After Houston Crash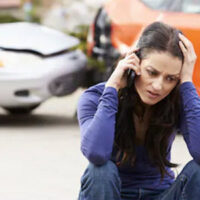 When people get their driver's license, they know that drinking and driving is against the law. However, many choose to drive while under the influence of alcohol anyway, causing fatal accidents. In fact, Texas has one of the highest rates of drunk driving deaths.
A recent DUI crash has led to the death of a man. The fatal accident occurred on the morning of February 21 on North Wilcrest Drive in West Houston. The driver, a 29-year-old woman, has been arrested for intoxication manslaughter.
The woman was driving a GMC Sierra on North Wilcrest Drive. She was speeding when she lost control. She went off the road and crashed into a tree in someone's front yard. Her passenger, a 34-year-old man, died at the accident scene. The driver and another passenger were injured and taken to a local hospital. The driver admitted she had been drinking at a restaurant before the crash. 
Dangers of Drinking and Driving 
Drinking and driving is illegal for many reasons. Even though a blood alcohol content (BAC) of 0.08 or above is considered illegal, just one drink can affect the body. A person can start feeling the effects of alcohol when their BAC is just 0.02. At this point, the body is starting to feel more relaxed. They can experience a lack of judgment and inability to multitask. They may also experience mood swings and decreased vision.
Alcohol use affects the body in various ways. For one, it slows your response time, which makes it harder to process situations and avoid accidents. It also affects the coordination in your hands, feet and eyes. Too much alcohol can make it difficult to walk or stand, let alone operate a motor vehicle.
Alcohol consumption also negatively impacts your concentration. You may find it hard to focus on the road or stay in your lane. You may not notice traffic signs and signals, causing you to crash into vehicles and other objects.
Alcohol can also affect your judgment. With good judgment, you make good decisions. This is hard to do when you've had too much to drink. You cannot stop in time or avoid collisions as easily.
Drinking and driving can also impact your vision, which is crucial. Many people experience blurry vision or double vision after drinking alcohol. This is not good when you're trying to drive. When your vision is impaired, you cannot clearly see other vehicles or road hazards. You could hit a pedestrian and cause serious injuries or even death. 
Contact a Personal Injury Lawyer
Drinking and driving is something you should avoid doing. This is a type of negligent behavior that can lead to fatality, as seen in this case. People who drive while intoxicated can face both criminal and civil lawsuits.
The Houston drunk driving accident attorneys at the West Law Office, PLLC can help you obtain compensation for the damages you or a loved one has suffered in a drunk driving accident. To schedule a free consultation, call 281-347-3247 or fill out the online form.
Resource:
abc13.com/wilcrest-drive-crash-fatal-houston-ana-flores-manslaughter/10359354/