1 Killed In Dump Truck Accident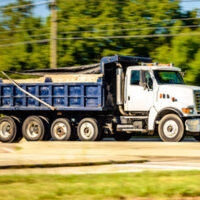 Driving behind a slow vehicle can be frustrating, especially when you're already running behind. Many people speed and cannot slow down in time. Some try to pass illegally. Others do pass legally but lose control. All of these situations can lead to a serious accident.
This situation led to a deadly rear-end accident for one driver. The fatal crash occurred in Houston on the morning of May 20. The two vehicles collided in the 14100 block of Chrisman Road, near Aldine Bender Road.
A police investigation showed that a dump truck was driving slowly on the road, as it was getting ready to turn into a business. A pickup was traveling behind the dump truck. The driver was speeding when he rear-ended the dump truck. The pickup truck overturned and became engulfed in flames.
The driver died at the accident scene. He was the sole occupant of the pickup truck. It is unknown if the dump truck driver was injured.
Causes of Rear-End Accidents
Rear-end crashes typically happen because a vehicle in front has stopped or slowed down too quickly. Some common causes for this include:
Drivers need to be aware of vehicles in front of them and keep a safe distance.
Going too fast makes it harder to slow down. When a driver is speeding, they can easily crash into a vehicle traveling in front of them.
Distracted driving. Distracted driving occurs when a person is not paying attention while driving. Texting is a common distraction. Eating, reading, and talking to passengers can also distract a driver from what is happening on the road in front of them.
Liability in Rear-End Accidents
Rear-end crashes are very common. They can be caused by tailgating, distracted driving, speeding, and other factors. In almost all rear-end accidents, the driver of the vehicle in the rear (the one who does the rear-ending) is the one at fault. This is because all drivers have the duty to follow other vehicles at a safe distance.
However, it is possible for the vehicle in front to be at fault or a rear-end accident. Some possible situations include:
The driver suddenly goes into reverse.
The driver "brake checks" the driver behind them. A brake check refers to suddenly hitting the brakes for no valid reason.
The vehicle has brake lights that are not working properly.
The driver is operating the vehicle even though it has an obvious problem, such as a flat tire or mechanical issue.
Contact a Personal Injury Lawyer
Hitting a dump truck, semi truck, or any other type of truck can result in serious injuries or death. Motorists need to exercise caution when around these large vehicles.
A Houston truck accident attorney from The West Law Office, PLLC can assist you with your case. Schedule a free consultation to learn more about your rights to compensation. Call 281-347-3247 or fill out the online form.
Source:
click2houston.com/news/local/2022/05/20/driver-dead-after-fiery-crash-involving-dump-truck-at-n-harris-county-intersection-sheriff-says/