Man Killed In Lake Houston Pedestrian Crash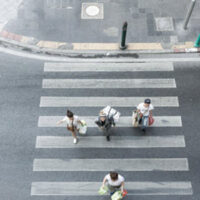 Walking from place to place can be convenient as well as a great form of exercise. But there are dangers involved, especially when there is a lot of vehicle traffic. A person can get easily hit by a car, and since they have no protection, they can get seriously injured or killed.
A man was killed in a pedestrian crash in Houston. The fatal accident occurred on the morning of May 12 on the McKay Bridge over Lake Houston.
The man was walking in the middle of the bridge, located on FM-1960, when he was hit by two vehicles. He died at the accident scene.
The drivers of the Honda Odyssey and Ford F-150 both remained at the crash site. Police determined they were not impaired and released them. The entire McKay Bridge was shut down in both directions after the crash, causing significant traffic delays.
What Causes Pedestrian Crashes?
There are many reasons for pedestrian crashes, including the following:
Lack of visibility. Pedestrian accidents tend to increase at night due to a lack of light. The nighttime darkness makes crashes more likely, which is why those who choose to walk late at night should wear light, bright clothing and carry a flashlight.
Distracted driving has become an epidemic in recent years. Social media keeps people glued to their smartphones constantly, which means they aren't paying attention to the road. This can cause a driver to hit a pedestrian. But keep in mind that pedestrians can be distracted as well, so stay off your phone while crossing streets.
Drunk and drugged drivers are dangerous. They lack judgment and may run through stop lights and stop signs. They may hit pedestrians and other vehicles. Pedestrians should be especially wary of drivers at night, when many people consume alcohol.
Pedestrians typically have the right of way, even if they go against the light. This means drivers have to wait for pedestrians to cross, which can be frustrating. However, drivers need to be patient and wait for pedestrians to get across the road.
Poor weather conditions. Rain, ice, and snow can make driving conditions difficult. A driver may not be able to stop in time to avoid hitting a pedestrian. Likewise, a pedestrian on the road in these conditions may slip and fall into the path of a motorist and get injured or killed.
Multi-lane roads. Roads with three or more lanes can be tricky when it comes to pedestrians, especially if they are busy arterial roads. Drivers are typically concerned with moving into the correct lane and are not always looking out for pedestrians. There are high speeds and constant lane changing, which makes these roads dangerous. Pedestrians should be wary when crossing these roads and proceed with caution.
Contact a Personal Injury Lawyer
Walking on Houston's busy roadways is always a risky proposition. A pedestrian accident can easily lead to catastrophic injuries or death.
Seek legal help from a Houston pedestrian accident attorney from The West Law Office, PLLC. We can help you understand your legal options. Schedule a free consultation by calling 281-347-3247 or filling out the online form.
Source:
abc13.com/pedestrian-struck-by-car-killed-deadly-crash-mckay-bridge/11840362/