Garbage Truck Runs Over, Kills Woman in Houston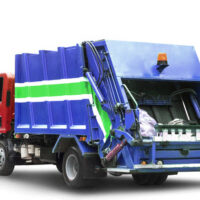 Being homeless is no doubt a tough situation. Finding safe places to sleep can be a challenge. A parking lot is not a good option. Vehicles go in and out of parking lots and it can be hard for them to see people in the way. Unfortunately, many homeless people are killed while they are sleeping.
This was recently the case in Houston. A woman, likely to be homeless, was killed after being hit by a garbage truck. The fatal accident happened on the morning of August 15 in the 5600 block of Gessner Road.
The woman was wearing dark clothing and lying on the ground in an unlit parking lot of a restaurant when a garbage truck pulled in. The driver did not see the woman lying down in the road and ran over her.
Houston Fire Department paramedics responded to the scene, but the 47-year-old woman had died from her injuries. She was believed to be homeless. The Harris County Institute of Forensic Sciences is in the process of verifying her identity.
The driver of the truck remained at the accident scene. They were questioned, determined to not be impaired, and released. 
Garbage Truck Accidents
 Some people joke about having their work projects and other affairs in order in case they "get hit by a truck." Believe it or not, getting hit by a garbage truck is actually quite common. The truck or the garbage inside may hit a driver or pedestrian, causing serious injuries. A garbage truck accident can lead to traumatic brain injury,  spinal cord injuries, paralysis, fractures, neck and back injuries, joint and ligament damage, nerve damage, and even wrongful death.
Garbage truck accidents are typically very serious. This is often due to the sheer size and weight of a garbage truck. Just being around a truck as large as a garbage truck is enough to intimidate most drivers of passenger vehicles.
Accidents can be caused by the following:
Speeding
Sideswiping a vehicle
Tailgating
Distracted driving
Falling trash hitting drivers and pedestrians
Frequent stops
Not obeying traffic laws
Driver fatigue
Lack of proper maintenance
Lack of training
If a garbage truck is involved in an accident, there will be questions about liability. How did the accident occur? Who is at fault? Even if the driver directly caused the crash, the trucking company could be held liable as well, since they are responsible for the driver's actions.
An investigation will likely take place. An experienced lawyer can assist you with this process.
Contact a Personal Injury Lawyer
When a person is hit by a garbage truck, the chances of survival are minimal. People need to be mindful of vehicles and be alert when deciding to sleep outdoors.
If you are injured in a crash, a Houston truck accident attorney from The West Law Office, PLLC can help you with the effects. We'll help you receive medical care and compensation. Call 281-347-3247 or fill out the online form to schedule a free consultation with our office.
Source:
click2houston.com/news/local/2023/08/15/garbage-truck-driver-accidentally-runs-over-woman-lying-in-northwest-houston-restaurant-parking-lot/