Woman Killed In Garbage Truck Accident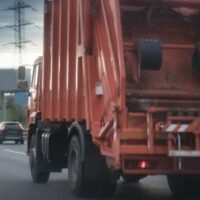 Garbage trucks are useful vehicles, but you sure don't want to crash into one. A garbage truck is a big and bulky vehicle that can weigh more than 20 tons, so a collision with one can be deadly. Sadly, this was recently the case in Houston.
A woman was killed after crashing into a garbage truck on FM 1960. The fatal accident occurred on the morning of April 8.
The woman was traveling west when she veered out of her lane. She went into the eastbound lanes for unknown reasons and hit a garbage truck head-on in the 11300 block of FM 1960.
The woman, believed to be 34 years old, died at the accident scene. The driver of the garbage truck was not injured. They stayed and cooperated with police. The crash is still under investigation.
Causes of Head-On Accidents
Head-on accidents tend to occur when drivers fail to follow traffic signs and signals. This can happen in the following situations:
Tired drivers are more likely to make mistakes. This may cause them to drive in the wrong direction.
Low visibility. Head-on accidents tend to occur at night, when visibility decreases. They can also happen in the fog or heavy rain.
Distracted driving. When a person is not focused on the road, they may veer into the adjacent lane, causing them to hit a vehicle head-on.
Being under the influence of drugs or alcohol can cause a person to experience reduced reaction times and errors in judgment. These issues can make a driver more likely to travel in the wrong direction.
What to Know About Head-On Accidents 
While not the most common type of car crash, head-on accidents are some of the deadliest. That's because of the forces involved. Two vehicles going toward each other at high speeds is likely to cause significant damage and injuries. These accidents are more likely to happen in rural areas.
Head-on accidents can affect any part of the body. They are likely to cause death, but if a person survives, they could be left with catastrophic injuries such as head trauma, back and neck injuries, broken bones, internal bleeding, and organ damage.
The damages are not purely physical. Post traumatic stress disorder is a common issue after any type of car crash. The symptoms include:
Nightmares and flashbacks
Sleep problems
Severe anxiety and depression
Memory problems
Lack of concentration
Avoiding places that remind you of the accident
Fear of driving or being in a vehicle 
Contact a Personal Injury Lawyer
Auto accidents are serious issues, especially when large vehicles like garbage trucks are involved. Head-on collisions are even more deadly.
The Houston truck accident attorneys at The West Law Office, PLLC can assist you with your truck accident case. Our aggressive team will work quickly to get you the compensation you deserve. Fill out the online form or call 281-347-3247 to schedule a free consultation.
Source:
khou.com/article/news/local/fm-1960-deadly-car-crash-houston-texas-april-8-2022/285-d70033f8-d605-46a6-b017-8eed21bd344e