Most Common Types of Workplace Accidents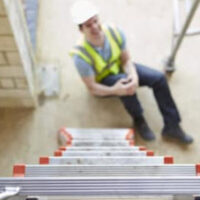 Employees expect to work in safe environments, but that's not always the case. Accidents happen, plus some workplaces, like construction sites, are inherently dangerous.
A workplace accident can be a scary situation. Such an incident can cause a variety of injuries and can even prevent you from working and living a normal life. That's why it's important to understand what you can do to protect yourself. Here are several of the most common types of workplace accidents and how you can prevent them.
Slips, Trips and Falls
Slips, trips and falls are very common in the workplace. There were 240,160 incidents in the United States in 2018. While many slips, trips and falls are caused by wet floors, they can also be caused by debris in hallways, icy surfaces and uneven ground. The retail industry seems to come across these incidents most often, although the construction and manufacturing industries also see high numbers of slips, trips and falls. You can prevent these accidents by using appropriate footwear, paying attention to where you are walking, cleaning up spills immediately and using handrails.
Struck By/Caught in Machinery
Those who work in factories or with farm or construction equipment are most likely to get hit by machinery or caught inside of it. When a machine does not have a safety guard, a body part can get caught inside, causing amputation, blindness, broken bones and other serious injuries. Protect yourself by wearing protective gear and refraining from using machinery without proper training.
Transportation Accidents
While car crashes are common, employees can get injured by other types of vehicles. This includes airplanes, boats, trains and buses. On construction sites, employees can get hit by dump trucks and tractors. To prevent these accidents, employers should adopt a safe driving program that includes various requirements and policies.
Fire/Explosions
Faulty gas lines and open flames can lead to fires and deadly explosions. While fires and explosions account for only 3% of workplace accidents, they have the highest fatality rate. A person can suffer respiratory issues, burns, scarring and disfigurement. You can stay safe by wearing appropriate protective gear and knowing how to handle hazardous materials.
Workplace Violence
Some incidents in the workplace are intentional and cannot be avoided. They may include an angry employee shooting at others or an assault. Animals may also attack a person, biting them, mauling them or even killing them. You can avoid being a victim by staying away from strange animals. Be wary of employees who bully others, make inappropriate demands, have anger issues or make threats or suicidal comments.
Contact a Personal Injury Lawyer
Workplace accidents can happen in any type of environment. Learn how to stay safe and prevent them so you don't suffer serious injuries or even death.
If you or a loved one has been injured or killed in a workplace accident, get help from The West Law Office, PLLC. If your employer has denied your claim, our experienced Houston workplace injury lawyers can handle it while you focus on physical recovery. Schedule a consultation today by filling out the online form or calling 281-347-3247.
Resource:
fitsmallbusiness.com/most-common-workplace-injuries/
https://www.houstonpersonalinjury.law/what-is-and-what-is-not-a-valid-workplace-injury/