Mental Health Issues Related to Texas Workplace Injury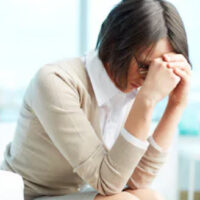 When a person is involved in a workplace accident, they can suffer a variety of injuries. While most are physical in nature, some can be mental or emotional. This was confirmed in a recent case in Texas.
On September 15, it was determined that a truck driver's workplace injuries in 2014 led to his anxiety and depression. The Texas Court of Appeals, Fifth District agreed with the trial court's decision in the court case Ace American Insurance Co. v. Elmer.
The truck driver tore his left shoulder rotator cuff and the meniscus of his left knee while exiting his truck as part of his workplace duties in 2014. The trucking company's insurer, Ace American Insurance Co., approved the injury and considered it compensable.
In 2017, several years after the accident, the man then reported that he suffered from anxiety, depression and chronic pain syndrome due to the injury. The Texas Division of Workers Compensation found these mental issues to be compensable, with the trial court in agreement. However, the insurance company did not agree. Ace American Insurance Co. appealed the decision, but the Texas Court of Appeals agreed with the original decision to pay the claims associated with the mental issues.
Ace American Insurance Co. argued that the man's doctors did not establish a connection between the work injury and his mental issues. The appellate court, however, stated that the trial court correctly decided that the evidence was sufficient to support the fact that the man's chronic pain syndrome, anxiety and depression were all related to the work injury. The court also ruled that Ace American Insurance Co. expert report has some inconsistencies, making it unbelievable.
Depression as a Workplace Injury
Workplace accidents tend to cause physical ailments, but many incidents lead to depression. In fact, depression is a major cause of disease or injury among men and women. Depression can be so severe that it can significantly impact one's social, work and home activities.
A person can develop depression from a negative workplace environment, whether or not a workplace accident has taken place. Depression can decrease productivity and can cause employees to miss work altogether. It can also lead to substance abuse.
Depression often occurs after a workplace injury due to various aspects. A workplace injury, especially a severe one, can make it hard to do work tasks. It can also impact one's finances due to a loss of work coupled with medical bills. A workplace injury can also affect one's home life and hobbies. It can create family tension and make it hard to engage in favorite activities. The risk for depression increases when there is chronic pain involved.
Contact a Personal Injury Lawyer
Workplace injuries can cause physical and emotional injuries. Whether you were injured in the workplace or any other environment, get the compensation you deserve.
The Houston workplace injury attorneys at the West Law Office, PLLC can help you recover physically and financially. Let us assess your claim. Fill out the online form or call 281-347-3247 to schedule a consultation.
Resourc:
businessinsurance.com/article/20200917/NEWS08/912336704/Anxiety,-depression-tied-to-workplace-injury-Texas-appeals-court-Ace-American-In
https://www.houstonpersonalinjury.law/most-common-types-of-workplace-accidents/