Passenger Killed In Drunk Driving Crash With Tree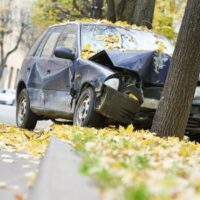 After a night drinking at a bar, what should a person do? Definitely not get into a car and drive, like one woman did. She caused a fatal car accident after killing her passenger. She is now facing manslaughter charges.
The fatal accident happened on the morning of March 25 on Telge Road in Cypress. Witnesses saw the vehicle leaving a bar down the street. It appeared as though the driver drove out of a lane and hit a raised curb, causing the driver to lose control. The vehicle then swerved into the center median, with the passenger's side colliding with a tree. The vehicle continued on into the northbound lanes until it finally came to a stop.
Police found the vehicle with heavy damage on the passenger's side. The passenger, a woman in her 20s, died at the accident scene. The driver, a 26-year-old woman, was taken to a local trauma center with head injuries and is expected to survive. She showed signs of intoxication, so police opened a DWI investigation. She was later charged with intoxication manslaughter. It is possible that the driver was speeding at the time and that could have also played a role in the crash.
Consequences of Drunk Driving
Drunk driving is a serious matter that can lead to numerous consequences. Even just one drink can lead to reduced judgment and cognition. If you are caught and convicted of a DUI, you could face a variety of penalties, including fines, jail time, and license suspension. You could also face higher insurance rates.
A DUI conviction can also affect your professional life. If you drive a vehicle for a living, you could lose your job. A DUI on your record can make it hard to find a new job.
Drunk driving can not only affect you but others, as seen in this case. The driver survived but the passenger died. Many people are seriously injured or killed by a drunk driver's negligence. Victims may be passengers inside the drunk driver's vehicle or occupants of other vehicles. Pedestrians and bicyclists are also at risk. Injuries may include broken bones, spinal cord injuries, brain injuries, amputation, and disability.
The fact is that drunk driving accidents are unnecessary. They can be prevented if drunk drivers would be proactive and get a ride from a taxi or rideshare vehicle. When going out, drink water or soda instead of alcohol. Never feel pressured to drink. Avoid taking rides from drivers who have been drinking.
Contact a Personal Injury Lawyer
Intoxication and speed are main factors in many car crashes. Alcohol can profoundly affect a driver's judgment, causing serious accidents, injuries, and even death.
Drunk driving can cause many financial consequences. The Houston drunk driving accident attorneys at The West Law Office, PLLC can help you recover compensation for an accident caused by a driver's intoxication. Fill out the online form or call 281-347-3247 to schedule a free consultation.
Resource:
khou.com/article/news/local/telge-road-cypress-texas-deadly-car-crash/285-0bc0769f-cec7-4ee9-960f-8bae0af61602