Houston Car Accident Lawyer | Auto Injury Claims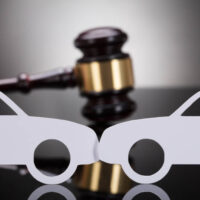 One of the inevitabilities of driving a car is that someday you'll be in an auto accident or encounter an incident where your vehicle incurs damages. Unfortunately, damages to your vehicle may also result in injuries to you or other passengers. When this happens you'll need to make a claim to the insurance carrier as soon as possible. Claims are segmented into two categories: bodily injury claims that result in medical expenses, and property damage claims that result in vehicle repairs or stolen property. This article will offer insight into the process of filing a claim, the unique challenges that occur when involved in a hit and run accident, and the challenges of facing a trucking accident case.
Auto Injury Claims and the Insurance Company
Being involved in an auto accident can be a shocking, frustrating, and scary experience. Even after the accident has been cleared away there is the ordeal of dealing with the other driver's insurance company. Once you file a claim an insurance adjuster will be assigned to your case and will investigate the factors that contributed to your accident, and what your damages are thought to be worth. It's important to keep in mind that the insurance adjuster works for the insurance company and not for you. Their primary interest is in withholding a payout and keeping any payouts made as low as possible without taking the case to trial.
How an Insurance Adjuster Determines an Offer
In personal injury cases, insurance adjusters are typically looking for the following factors:
Expenses such as medical bills and costs incurred
Lost income
Pain and suffering damages
Emotional distress damages
Some of these costs are easily quantified however, pain and suffering is subjective and can be difficult to determine because of the complexities associated with putting a number on a person's pain. an example of how an amount of compensation for pain and suffering might be derived would be where the insurance company multiplies the cost of the actual losses ( medical bills and lost wages) by a set number determined by the insurance company. of course, every insurance company will determine this number differently, but this should give you an idea of how compensation is computed.
Other factors that insurance adjusters consider are the strength of the plaintiff's case and their policy limits. if the plaintiff has a solid case then the insurer is more likely to offer a larger settlement. if a plaintiff's case isn't so strong, the insurer is likely to offer less.
The Reason Hit and Run Accidents Occur
State laws require that all drivers involved in a car accident remain at the scene and contact the police to provide a statement. When involved in an auto accident all parties are required to take certain actions like rendering aid should there be any injuries, and provide the other driver with personal information like insurance carrier and driver's license details. Should a driver fail to do this they are now considered part of a hit and run, which qualifies them for a number of penalties. the reason hit and run cases occur can vary, but a few common causes are the following:
The Driver Has a Suspended License
The Driver Does Not Have Auto Insurance
Panic and Fear
In the case of commercial vehicles, they don't want to lose their job.
The driver is under the influence of a controlled substance.
Outstanding Warrants or Tickets
To Avoid Financial/Legal Responsibility
What to Do if You Are Involved in a Hit and Run
Should you find yourself involved in a hit and run accident and sustain non-life- threatening injuries, the most important thing to note is to not chase the other driver. Instead remain calm and wait for the police and medical services to arrive. You can also begin to collect evidence like writing down what you can recall about the other driver like the make and model of their car, license plate information if you have it, and a description of the driver. You'll also want to take photos of the scene. Locate any witnesses that might have seen either the accident or the other driver fleeing. Be sure to obtain their contact information in the event they also leave the scene before law enforcement officials arrive.
When a driver leaves the scene without offering their information, the injured driver will likely need to seek compensation from their insurance carrier to cover medical expenses. in these cases, it is always best to hire a Houston personal injury attorney to ensure that your rights are protected. Hiring a Houston car accident lawyer is the best way to ensure that you are made aware of all local and state policies if you're ever involved in a hit and run accident.
18-Wheeler Accidents
Accidents involving an 18 wheeler can be extremely dangerous. Collisions with these vehicles can cause serious injuries, and oftentimes death. in the United States, there are approximately 2 million big rig trucks on the road, and about a fourth of these trucks are expected to be involved in an accident within the year. Due to their sheer size, these trucks produce devastating accidents – even when low speeds are involved. in many cases, trucking accidents are the result of drivers failing to follow safety protocol, trucking industry regulations, and general traffic rules. a few other common causes of 18-Wheeler accidents Include:
Mechanical Failure or Poor Truck Maintenance
Driver Fatigue or Recklessness
Blind Spots
Unsafe Lane Changes
Road Defects
The Driver is Under the Influence of Drugs or Alcohol
Insufficient Driver Training
Overloaded Truck
Accident Investigation
When involved in an 18-wheeler accident lawyers will explore the scene of the incident, speak with witnesses, and review the truck's recording equipment. This investigation will determine what happened before, during, and immediately following the accident.When involved in a big rig accident there are a number of parties that can be found liable for damages. From loading companies to part manufacturers, and even the drivers themselves, liability can be spread across numerous parties.
As you can imagine a trucking company has to be very well prepared in the event of an accident, and work aggressively to litigate in defense of all parties involved on their side. Drivers and trucking companies are like the modern-day David and Goliath. it is for this reason that we highly recommend that victims facing a trucking accident case immediately seek a Houston 18 wheeler accident lawyer. Even if all evidence collected finds the trucking company liable for your injuries and damages, truck accident lawyers are highly skilled in ensuring that you are able to receive the maximum compensation that you deserve; without the headache of navigating the legal system on your own.
If you are injured in an accident – whether a hit and run, fender bender or an 18 wheeler/semi truck accident – it is important to first and foremost seek medical treatment. Keep all records of your injuries, what treatments you received and where, and the costs you incurred. a Houston personal injury lawyer with experience can increase the odds of you being fairly compensated.
If you or a family member have been injured in an auto accident, notify the the West Law Office to connect with one of our knowledgeable car accident attorneys. We know the tactics used by insurance companies, and we are here to ensure that justice is served in your case.
Seeking compensation for your personal injury?
Know how to Negotiate
Negotiation is an art. it is something you need to know. These negotiation tips can help.
Have a settlement amount in mind before you begin but present a higher figure so you have room to negotiate.
Don't take the first offer that is presented to you.
When given a low offer, make the adjuster justify it – to your satisfaction.
Emphasize the emotional impact of the situation.
Wait until the adjuster responds before you consider lowering what you'll accept for a settlement.
Know when it is time to get a lawyer.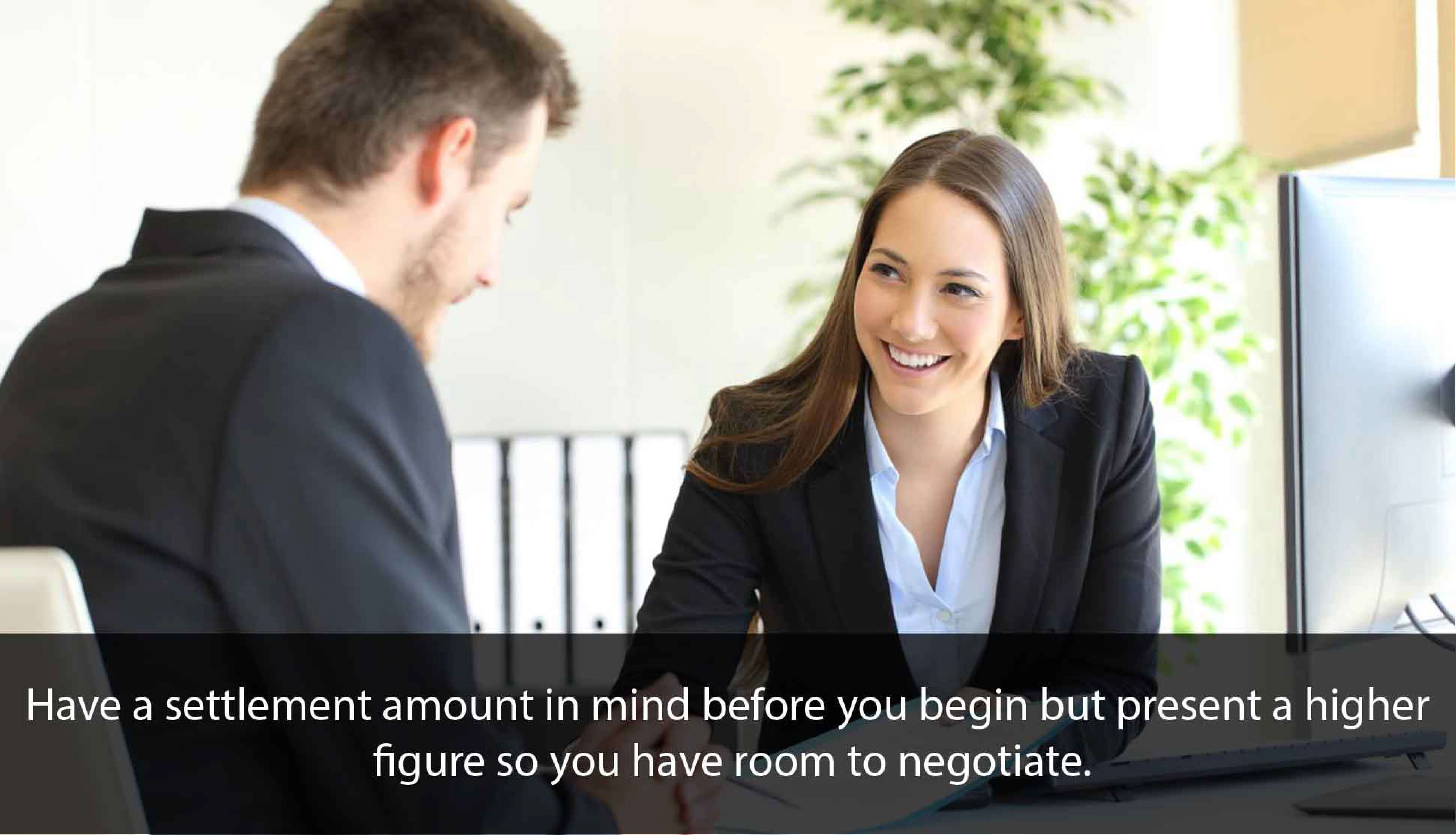 Get the Right Lawyer
When you need a personal injury lawyer, call Sue West of West Law Office get the Average Settlement for Personal Injury or more. She will go to work for you so you don't get lowballed on your settlement. Call today and get the compensation you deserve.