7 Ways to Win Your Personal Injury Case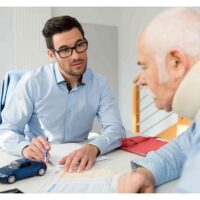 When you've been injured in an accident, whether on the job or on the road, what to do next can seem like a daunting question. You'll be overwhelmed with information, doctor's visits, and the decision on how to ensure compensation for your injuries. Here are 7 simple steps to help you win your personal injury case.
1. Get Medical Treatment
Following your accident be sure to seek medical treatment for two main reasons: to ensure that any internal damage is treated properly, and to document that you did, in fact, sustain injuries as a result of the incident. Should you forgo seeking medical treatment after your accident it may come across to the insurance company and/or a jury that you were not seriously impacted, and thus do not require compensation.
2. Be as Detailed as Possible About Your Medical History and Symptoms
Be sure to notate any and all discomfort as you go about receiving medical care, and discuss your condition thoroughly with doctors. Some conditions may worsen with time, thus it is best not to minimize your aches and pains by not mentioning them to your medical providers. Also, be as descriptive as possible about the pain that you are experiencing. Instead of saying things like "I have pain", you might describe the pain as dull, achy, sharp, or throbbing pain. Keeping up to date and extensive medical records are of the utmost importance in establishing the extent of your injuries, and subsequently, the amount of compensation you will be seeking.
3. Keep Your Attorney Informed
Keep your attorney in the loop at all times. as you go about scheduling your medical appointments and tests, keep your personal injury attorney well informed on appointments, diagnosis, treatments, and next steps. Your attorney is there to guide you through the process of your personal injury case, but their assistance is only as effective as the information they have been given throughout the process. Additionally, if you decide to apply for disability benefits or government assistance, it is imperative that your attorney is involved in that process.
4. Stay Away From Social Media
Consider that everything you post on social media can be received by anyone with a Wifi connection. Any information regarding your physical condition, daily activities, even travel plans can be scrutinized by the insurance company and/or defense counsel and may hurt your case. in addition to withholding personal information, it is especially imperative that you do not disclose details concerning your case, the type of accident, your injuries, or medical bills and treatments with your online community. Anything you say or do may be used against you should the insurance company and/or jury feel that your claims are not consistent with the information you've discussed online.
5. Collect Physical Evidence
Be sure to collect and preserve all evidence within the first few days of an accident. as time passes you run the risk of evidence being lost or compromised due to weather and other conditions. Whenever possible take photos as soon as you can to show the most accurate and timely evidence available. Record the location of the incident, and whenever possible obtain witness contact information. Be sure to also include the date and time where the photos were taken.
6. Don't Rush to Settle
if your injuries have impacted your ability to work, it's easy to become overwhelmed with the worry of your financial future. Insurers are well aware of your concerns and may expect you to take a lower amount for your settlement in exchange for a faster resolution to your case. it is highly advised that you not accept the first offer that comes your way. Speak to your lawyer about what would be a fair offer and allow your attorney to ensure that your case receives the maximum compensation due.
7. Hire an Experienced Personal Injury Lawyer
if you are seriously injured due to an accident it is strongly advised that you hire an attorney immediately to represent your case. Contact the West Law Office in Katy/Houston area for a free consultation right here in the Katy and Houston area.
Seeking compensation for your personal injury?
What to Do When the Employer Does not Offer Workers' Compensation
When the employer does not provide workers' compensation and they are responsible for your injury, then it's time to file a personal injury claim. Through civil action in the state of Texas, an injured worker may seek compensation for:
Past, Present and Future Medical Expenses
Lost Wages
Pain and Suffering
Lost Earning Potential
Mental and Emotional Anguish
And More
The team at the West Law Office carefully investigates your workplace injury to identify all liable parties to build you a winning case that demonstrates the liability of all parties involved. Whether your employer offers workers' compensation or does not, we help you get the compensation you are entitled to so you can restore and repair your life. Take the first step towards receiving your compensation by contacting the West Law Office to discuss your on-the-job injury.