Can Dog Bites Be Both a Personal Injury and Premises Liability Issue?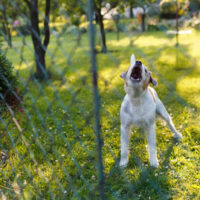 Here in Texas, we see a lot of incidents involving dog bites on a regular basis, particularly since Texas simply has a lot of dogs. That was unfortunately the case for one woman recently, who was bit by a dog outside of a Starbucks in Dallas. Police are now looking for the dog and his owner, who was reportedly a Starbucks customer sitting at a table outside when the incident occurred, and took off, unfortunately before the victim was able to find out if the dog had all of his rabies shots.
Legal Responsibility in Texas
Incidents like these not only involve negligence on behalf of the dog owner–especially when the law dictates that anyone who fails to secure a dog that makes an unprovoked bite while not on their property can be charged with a Class C misdemeanor–but a premises liability issue as well, depending upon who owns the property where the bite occurred and what the circumstances involved. Premises liability allows for injured victims to hold landowners responsible for injuries that occur on their property where negligence has been involved.
Many dog bites occur when a visitor is on the dog owner's property, in which case it is often a clear-cut premises liability issue and the property owner can be sued for negligence, especially if the dog has a history of biting people before and therefore the landowner had a heads-up that the dog had a problem. In this case, the dog owner was a customer of Starbucks and on Starbucks' property; therefore, would Starbucks be at all responsible?
Texas does not have an explicit statute covering dog bites and civil liability for any damages caused by the bites. This is why localities like Dallas typically pass their own rules governing the circumstances. However, Texas does have a court ruling which essentially states that, for the purposes of any dog bites, Texas follows the standard theory of negligence based on the one dog bite rule, whereby the individual who was injured by the dog can bring a claim if they demonstrate that the dog's owner was aware that the dog had a propensity to bite based on past behavior and the owner failed to exercise reasonable care to prevent the bite/control the dog/etc. While, under premises liability, landowners are responsible for conditions that could lead to injuries, in this case, the court would likely not find Starbucks to be responsible because, unless that dog frequented the property often and the business had witnessed it bite other people, Starbucks had no notice or heads-up that this dog would bite someone on their property. 
Contact Our Texas Dog Bite and Premises Liability Attorneys to Find Out More
If you or a loved one has been bitten by a dog or otherwise injured on someone else's property, contact our experienced Texas dog bite attorneys at The West Law Office today to find out how we can ensure that you are compensated and on the road to recovery.
Resource:
ox4news.com/news/police-searching-for-owner-after-dog-bites-woman-outside-dallas-starbucks