Truck Driver Killed in Fiery Crash in Houston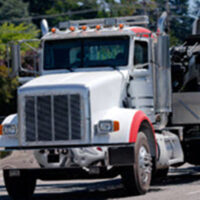 Semi truck accidents often involve other smaller vehicles. These smaller vehicles get crushed, causing catastrophic or even fatal injuries. However, some semi truck crashes are solo-vehicle accidents that can lead to fatality for the truck drivers involved.
Sadly, this was the case for a truck driver in Houston. The driver, an unidentified man, was killed when the tanker truck he was driving overturned and caught fire.
The fatal accident occurred on the afternoon of January 5. A tanker truck was hauling ethanol on westbound Interstate 610, at the North Loop East service road, when the driver tried to get off at an exit. The truck overturned and caught fire. The fire spread, causing major damage to a building.
The driver was killed in the crash. Roads were closed for hours as crews cleaned up the mess. Witnesses say that the truck driver was speeding before the accident and he likely lost control.
Speed in Semi Truck Crashes
Speed is one of the most common causes of semi truck crashes. Drivers should follow traffic laws at all times, but a speeding semi truck is still a common sight in Texas. When truck drivers speed, they are primarily concerned about getting a speeding ticket, but they should be concerned about causing a serious accident. This is especially true with semi trucks, which can weigh 20 times more than a passenger vehicle. The speed, combined with the heavy weight of the truck, sets the tone for a dangerous accident.
Truck drivers speed for one main reason: to meet deadlines. Their employers often want them to get to their destination as quickly as possible. This means that truck drivers are often speeding down busy highways. If they need to slow down or stop, they could hit other vehicles, causing fatalities.
Speeding is particularly dangerous because of the extra stopping distance needed. Semi trucks cannot stop on a dime. They need a lot of room, especially if they are traveling at excessive speeds.
In addition, semi truck tires are not meant for high speeds. They are typically rated for speeds no higher than 75 miles per hour. When a truck driver goes beyond this, the tire is at an increased risk of blowout, which can be treacherous on a busy road.
Also, when a truck driver is speeding, they are more likely to lose control. That appeared to be the case in this situation. The driver could not control the truck, causing it to overturn. Fast vehicles are harder to turn, leading to serious crashes.
High speeds also cause semi trucks to jackknife. This is when the trailer folds up against the cab, like a pocket knife.
Contact a Truck Accident Lawyer
Truck accidents can be deadly, as seen in this case. They often carry hazardous materials that can explode and cause fires.
The Houston truck accident attorneys at the West Law Office, PLLC can assist you with your truck accident case. We will work hard to get you the compensation you deserve. To schedule a free consultation, fill out the online form or call 281-347-3247.
Resource:
cdllife.com/2021/tanker-truck-driver-killed-in-fiery-crash-houston-police-say/