Woman Killed After Driver Runs Red Light in Houston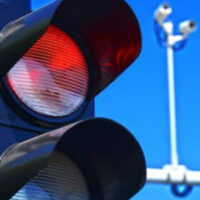 Driving is a privilege. It is an action that requires significant skill and focus. There are many traffic signs and laws that must be followed. When a person does not follow these laws, and they cause a fatal car crash, they can face criminal charges and other consequences.
This is what recently happened in Houston. A woman ran a red light, causing her to collide with another vehicle. The other driver was killed in the crash.
The fatal car accident happened on the evening of January 11 in northwest Houston, at the intersection of West Gulf Bank Road and Antoine Drive. The 28-year-old woman had left an apartment after getting into an argument. She hit a parked vehicle and fled the scene. She then ran a red light at the intersection and hit another vehicle. The other driver, a 52-year-old woman, was ejected from her vehicle. Her own vehicle then ran her over. She died at the accident scene.
The intersection was shut down for several hours as police investigated. The at-fault driver was taken to a local hospital for evaluation. Alcohol does not appear to play a role in the crash. At the moment, the woman is facing a charge of criminally negligent homicide. However, once investigation is complete, the charge can be upgraded to intoxication manslaughter or manslaughter.
Running Red Lights
A red light means stop. All motorists learned this in their driver's training classes as teens. However, not all drivers stop at red lights. Many go on through, causing serious and even fatal car accidents.
In 2017, 939 people were killed in accidents involving running red lights. This was the highest number in the past decade. Tens of thousands of people are injured in these crashes every year.
If a vehicle enters an intersection after a traffic light has turned red, the driver has technically run a red light. This is a violation that can lead to hundreds of dollars in fines. Those who are already in an intersection when the signal changes have not run a red light and will not be cited.
However, when turning right on a red light, you must come to a complete stop first. Those who do not stop have run a red light.
Anyone can run a red light, but red light runners were more likely to be young men. Many have a driving history of prior crashes or alcohol impairment. Red light runners are more likely to be speeding and not have a valid driver's license. 
Contact a Car Accident Lawyer
Negligent driving causes all sorts of accidents. That's why it is important to follow traffic laws and signs at all times.
If you or a loved one was injured or killed by a negligent driver, the Houston auto accident attorneys at the West Law Office, PLLC can help. We will work hard to get you the compensation you deserve for your injuries, pain and suffering, lost wages and other losses. Fill out the online form or call 281-347-3247 to schedule a free consultation.
Resource:
abc13.com/fatal-crash-northwest-houston-run-red-light-woman-killed/9585135/