Accidental Injuries & Wrongful Deaths in Children: How We Can Understand & Prevent Them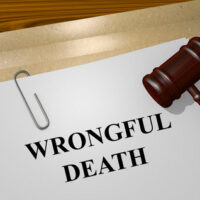 A number of children die from what many would call wrongful death every year due to accidents. For example, recently, a number of children have died due to being trapped inside front loading washing machines after running out of oxygen. As a result, the Consumer Product Safety Commission is investigating these deaths and, in fact, the agency estimates that, just in the last five years, there have been approximately 3,000 emergency room visits just due to washing machine-associated injuries in children ages five and younger. According to the reports, a number of these injuries were specifically related to falls.
More broadly, according to the Centers for Disease Control and Prevention, injuries like these were responsible for over 11,000 deaths and close to seven million emergency room visits by children in the U.S. in 2017, where millions of these children died as a result of these injuries. Because children under age five are extremely curious and naturally impulsive, they are more likely to explore objects, such as washing machines, and while there are a number of actions parents can take to keep their children safe around washing machines – such as locking the door to the laundry room, keeping the washer shut, ensuring that the lock is on the washer, shutting off the water, etc. – because injuries due to accidents like these have surpassed infectious diseases as the leading cause of death in children around the world, it is also crucial that we deeply understand the risk factors associated with these accidents in general so that we can prevent them.
Three Categories Of All Child-Based Accidents
Psychologists have reportedly come up with three categories of risk factors in looking at how to reduce accidental injuries in children, including:
Caregiver-based risks: For example, children being injured and dying in daycares. Identifying these risk factors for example involves putting in place practices that reduce chances of harm, for example, mandating that anyone who drives children in daycare vehicles have a protocol for ensuring that all children have been taken out of the car at the end of the trip;

Child-based risks: For example, children unable to safely cross the street due to various cognitive demands. Risk factor prevention includes encouraging changes in parenting practices, such as parents engaging in providing more instructions in terms of how to cross the street or interact with dogs so as to prevent dog bites, etc.; and

Environment-based risks: For example, children being harmed in car accidents due to car seats and/or choking on toys that are not designed properly/safely. Identifying risk factors should lead the industry to change the design of their products so as to prevent accidents, injuries, and deaths in children.
Contact Our Texas Injury & Accident Attorneys to Find Out More
If your child has suffered an injury in an accident, or from wrongful death, contact our Houston wrongful death attorneys at The West Law Office today for a free consultation to find out how we can help.
Resources:
medicalxpress.com/news/2019-08-psychology-deadly-childhood-accidents.html
consumerreports.org/child-safety/keep-young-kids-safe-from-front-load-washing-machine-accidents/
/can-wrongful-death-lawsuits-be-brought-when-children-die-in-hot-cars/