Texas Woman Files Lawsuit After Husband Dies While Working On Turbine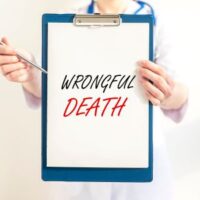 Nobody wants to get a call about their spouse dying at work but unfortunately, that happened to a Texas woman. The woman recently filed a wrongful death lawsuit after her husband died while working on a wind turbine.
The woman filed a lawsuit against Sentry Electrical Group in the Tom Green County court after her husband was contracted to repair a C-23 wind turbine. The man was given a punch list of items to repair. He was left alone on the site. When the man's supervisor came back to the job site later, he found the man dead on the second floor of the turbine. He allegedly fell from the third floor.
The man was wearing a harness and safety helmet. However, the third floor had an access hole with no guard railing. He fell 80 feet, dying shortly after the fall.
The lawsuit is claiming gross negligence and other forms of negligence. The lawsuit alleges that Sentry failed to provide medical services for injured employees, including a first aid station or infirmary. In addition, there was nobody with first aid training available to provide aid to the injured man, leading to his death.
Types of Wrongful Death
It's devastating when a loved one dies, especially when the death could have been prevented. A wrongful death can be caused by various situations, including the following:
Car accidents. This is the most common cause of wrongful death, since so many people drive and there are so many crashes on a daily basis. In most car accident cases, at least one driver was negligent or acting recklessly.
Pedestrian accidents. Pedestrian accidents are also very common because of the number of cars on the road as well as the number of people who walk from place to place. Many drivers are not paying attention while they're driving. They are distracted by their phones and other devices, causing serious and often fatal accidents.
Workplace accidents. As seen in this case, workplace accidents can be deadly. Construction and other types of manual labor can be dangerous, but so can working in an office or other environment. When employers cut corners or fail to provide safety training, they can be held liable.
Medical malpractice. While most doctors are highly skilled and perform at an acceptable standard of care, they are still human. Some don't follow procedures or make mistakes, such as forgetting to do something. They may make an error during surgery, fail to diagnose a medical condition, or prescribe the wrong medication, causing serious injuries, a worsened condition, or even death.
Contact a Wrongful Death Lawyer 
A wrongful death can happen anywhere, including the workplace. If your loved one was killed due to someone else's negligence or reckless behavior, be sure to take action.
The Houston wrongful death attorneys at the West Law Office, PLLC can help you understand your legal rights and the laws that apply. You have two years to file a wrongful death lawsuit, so act quickly. Schedule a free consultation today by calling 281-347-3247 or filling out the online form.
Resource:
sanangelolive.com/news/county/2021-06-03/wrongful-death-lawsuit-filed-after-man-dies-fall-wind-turbine