1 Killed In Houston Semi Truck Crash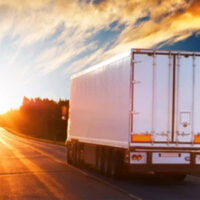 Semi truck crashes can be deadly. In these accidents, the truck driver is not always at fault. Sometimes other drivers collide with these huge trucks, causing disastrous results.
A fatal truck accident in Houston led to one death. The crash happened on the morning of January 28 on the Southwest Freeway.
 An 18-wheeler was traveling in the southbound lanes and going about 45 miles per hour when a speeding driver of a Nissan rear-ended the trailer of the truck. The Nissan burst into flames.
The driver of the Nissan was killed in the crash. It is unknown if the truck driver suffered any injuries. The accident blocked several lanes of the freeway and closed it down for several hours.
Causes of Semi Truck Accidents
Semi truck accidents can happen in a number of ways. In many cases, they are caused by the truck drivers themselves, but not always. Sometimes other drivers are at fault.
Reckless driving is a common cause of accidents. Speeding, tailgating, and weaving in and out of lanes are unsafe actions that can cause collisions with other vehicles. This is especially true for semi truck drivers, who have to deal with many impracticalities of the road as it is. Their vehicles are dozens of feet long, making it hard to maneuver. Plus, blind spots are the norm.
Other common causes of truck accidents include the following:
Distracted driving. Driving takes immense focus. However, there are many cases where either the truck driver or other drivers may not be focused on the roadway due to texting, phone use, reading, and other actions, causing serious accidents.
Driving while fatigued. Fatigued driving is a serious issue for truck drivers, as they often work long hours late into the night. They may even fall asleep behind the wheel, causing disastrous results.
Road and weather conditions. Rain, ice, and snow can be treacherous for semi trucks. These large vehicles cannot stop quickly and if they collide with a passenger vehicle, the occupants will likely suffer fatality.
Driving under the influence of alcohol or drugs. Truck drivers often turn to drugs or alcohol to stay awake after driving for long hours. These substances, however, are not without their effects. They can cause drowsiness, slowed reaction times, and a lack of judgment.
Improper training. Driving a huge semi truck is no easy task. Trucking companies need to take the time to properly train their drivers so they can drive such a vehicle safely without causing an accident. 
Contact a Personal Injury Lawyer
As seen in this case, car crashes can have tragic outcomes, especially when semi trucks are involved. The result can be catastrophic injuries and even death.
Count on the Houston truck accident attorneys at The West Law Office, PLLC for help with your truck accident case. We can assist you with physical and financial recovery. To schedule a free consultation, fill out the online form or call 281-347-3247.
Resource:
abc13.com/houston-traffic-southwest-freeway-18-wheeler-deadly-crash-w-bellfort-wreck/11516966/