2 Women Killed In Crash At Construction Site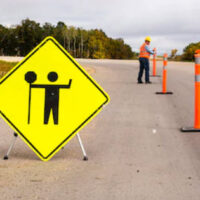 Highways and other roadways in Texas can be hard to navigate. Not only are there other vehicles on the road, but there are also dangers on the side of the road, such as signs, trees, and concrete walls.
Two women were killed after hitting a wall in Humble. The fatal crash occurred on the evening of January 28 on SH 242.
A 36-year-old woman was driving on eastbound SH 242 in a Jaguar when she hit a concrete wall. The impact sent her into the westbound lanes of a construction site near the San Jacinto River Bridge. The Jaguar then collided head-on with a 29-year-old woman who was driving a Scion.
Witnesses removed the 36-year-old woman from her Jaguar. They started CPR on her and emergency crews continued once they arrived, but the woman died 30 minutes later. The 29-year-old woman died at the accident scene.
The area where the crash occurred had been under construction. It is unknown what caused the accident.
Construction Zone Accidents
Construction zones are often necessary to expand the roadways or fix potholes and other defects. They are especially common in the summer months, when the weather is better. Construction work, however, can be unsafe and make driving confusing. The lanes of the road may become narrow. Detours can frustrate drivers and cause them to go in the wrong direction. There may also be obstacles in the roadway, such as cones, workers, and machinery. All of these situations can cause serious crashes.
Speed and distracted driving are also factors in construction zone accidents. Many crashes are caused by speeding, which is why speed limits are reduced in construction zones. Distracted driving can also cause crashes, which is why it is important for drivers to stay off their phones and be alert.
Fortunately, construction zone accidents are not very common. Since 2011, there have been approximately 4,000 of them in the United States. These crashes have led to 1,500 injuries.
The larger the construction zone, the more likely crashes will occur. Poor weather conditions also increase the number of accidents.
Because of this, safety is of utmost importance in construction zones. Each driver should bear the responsibility of acting in a safe manner at all times. Drivers should be aware of road construction sites and slow down while in a construction zone. They should follow posted speed limits and take weather conditions into account. It's also a good idea to leave enough space between vehicles and avoid distractions. 
Contact a Personal Injury Lawyer
Construction sites can be deadly in a number of ways. Not only can construction workers be injured, but so can drivers who happen to crash into the site.
Have you or a loved one been injured or killed in a car accident? If so, seek legal help from the Houston auto accident attorneys at The West Law Office, PLLC. We can give you the legal and medical advice you need to maximize your recovery. Schedule a free consultation with our office today. Call 281-347-3247 or fill out the online form.
Resource:
abc13.com/humble-fatal-car-crash-vehicle-collision-houston-construction-care-accidents/11520194/