Man Killed In Fiery Crash With Tree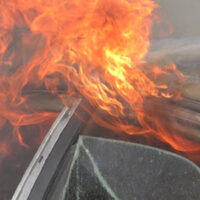 Speeding is an adrenaline rush for many people and while it may seem like fun, it can have serious consequences. Going too fast can cause a vehicle to lose control and crash.
A recent crash in Houston was caused by speed and it led to the driver's death. The fatal accident happened on the morning of February 5 on Wilcrest Drive.
A man was speeding when he lost control of his vehicle and veered off the road. He then crashed into a tree. The car then spun around and came to rest near a house before bursting into flames.
Firefighters arrived at the accident scene. They found that the man had died at the accident scene. Nobody else was injured.
The fire caused heat damage to the home. A neighbor got surveillance video of the car before the crash and it showed that the vehicle was speeding. 
Crashes Into Trees 
It may seem as though vehicles crash into trees and other stationary objects at high rates. Is this true, and if so, why?
It's not necessarily true. Crashes into trees and lampposts account for 16% of car accidents in the United States and account for approximately 3,000 fatalities every year. However, these are major accidents that are likely to result in death, which is why you're more likely to hear about them.
Plus, these objects are very solid, so they're able to withstand serious crashes. The vehicle—not so much. It's possible for a vehicle to go through a bush or other less solid object before hitting a pole or tree.
Also, drivers are likely to crash into trees due to proximity. When a driver loses control of their vehicle or is distracted, they will crash into something in the road or next to the road. It's all about proximity, and trees are often found next to the road, so that's why they tend to face the brunt of the damage.
Another thing to consider is that trees are not in the middle of the road. When a person hits a tree, they're on the side of the road. These accidents do not block the road and may be visible for longer, so you're more likely to notice them.
In any case, having trees on the side of the road can be a huge safety problem, especially on highways where vehicles are traveling at high speeds. But even in rural areas, car-tree accidents can be a serious safety issue.
Contact a Personal Injury Lawyer
Crashes can involve other vehicles or objects. Trees are very heavy and sturdy, and a collision with one often results in serious injuries or even fatality.
Car accidents can result in a lot of damages. Seek legal help from the Houston auto accident attorneys at The West Law Office, PLLC. Get the attention you need for your injuries. Call 281-347-3247 or fill out the online form to schedule a free consultation.
Resource:
khou.com/article/news/local/fiery-crash-turns-fatal-houston-police/285-f9d7080e-80f5-453b-b3c1-8c759fc63658