Woman Killed In Houston Hit And Run Accident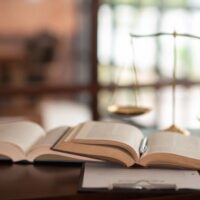 It can be frustrating when your vehicle breaks down. Not only are there delays, but you must also deal with drivers who are distracted and not paying attention. Even if you are pulled over onto the side of the road, you can still get hit by a car. Some victims get killed this way.
Sadly, this was recently the case in a hit and run accident in Houston. A woman was standing outside her disabled vehicle when she was hit by a car. She was left to die as the driver sped off without stopping to assist.
The fatal accident occurred on the morning of September 24 on Interstate 610 in the Meyerland area. A woman was traveling in a Dodge Charger in the southbound lanes of the I-610 West Loop when she got a flat tire near the South Post Oak Boulevard exit. She pulled over and as she was standing outside her vehicle on the right shoulder, she was hit by a vehicle.
The driver fled the accident scene without stopping to render medical aid to the woman, who later died at the crash site. There was a passenger in the Dodge at the time of the accident, but they did not get a good look at the vehicle and have no suspect description. The crash is under investigation.
Hit and Run Laws in Texas
Laws regarding hit and run, also known as leaving the scene of an accident, are vigorously enforced. If caught, a person accused of this crime can face misdemeanor or felony charges, depending on the circumstances.
A person can be charged with a hit and run crime if they are involved in a crash and fail to perform certain actions. These actions include the following:
Rendering aid to an injured person
Exchanging driver license and insurance information
Waiting for police to arrive to the accident scene
Stopping and leaving contact information on the vehicle (if it is parked and left unattended)
Leaving the scene of an accident may come with strict penalties if there were injuries involved. When non-serious injuries are involved, the crime is charged as a felony and is punishable by up to one year in prison. When the crash results in serious injuries or death, it is also a felony, punishable by 2 to 10 years in prison.
Contact a Personal Injury Lawyer 
When a person is involved in a crash, they need to stop and follow proper procedures. They should also render medical aid to any injured victims. When they fail to do so, they may leave a person to die as well as face criminal charges.
If you have been involved in a hit and run crash, the Houston hit and run attorneys at The West Law Office, PLLC understands how frustrating it can be. Let us help with liability and compensation issues. Schedule a free consultation with our office today by calling 281-347-3247 or filling out the online form.
Resource:
abc13.com/hit-and-run-crash-woman-killed-while-checking-flat-tire-disabled-vehicle/11043495/