Woman Killed After Car Flies Off Houston Overpass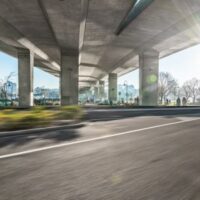 Flying off an overpass can be a scary situation. Being in a car that falls dozens of feet to the ground can lead to a fatal car accident.
Unfortunately, this was the case for an elderly woman, who recently died after she was in a vehicle that flew off a Houston overpass. The fatal accident happened on the afternoon of September 29 on the Southwest Freeway. One vehicle was driving on Hamilton, while another vehicle was traveling on Pierce Street.
One vehicle ran a red light. The vehicle that was on Hamilton crossed over the barrier and went onto the Southwest Freeway, landing onto the embankment.
An elderly woman was a passenger inside the car that went off the overpass. She was taken to a local hospital, where she later died. The driver of that vehicle was also hospitalized, but their condition is unknown.
The second vehicle stayed on the main road. Both drivers were tested for intoxication, but neither appeared to be under the influence. It is still unknown which vehicle ran the red light. The lanes were shut down for several hours as workers cleaned up the accident scene.
What Causes a Vehicle to Go off an Overpass?
Going off a freeway overpass is not something you ever want to experience while driving. However, it has happened on occasion. Many of those involved have died from their injuries, but there have been instances where people have survived with minor injuries.
Why do vehicles go off an overpass? Here are some common reasons:
Reckless driving. Speeding and driving aggressively can cause a vehicle to go off an overpass or push another vehicle off.
Distracted driving. A driver who is not watching where they are going could end up hitting a barrier and falling down.
Not following traffic laws. When drivers run stop signs or red lights, they may collide with another vehicle and cause one or more vehicles to go off an overpass.
A driver who is overly tired may not be aware of where they are going. They can easily end up over the edge of an overpass.
Loss of control. When a motorist is driving a large truck or bus, it can be easy to lose control. This loss of control can make it difficult for the driver to keep the large vehicle on the road.
It is possible for a vehicle to suffer mechanical defects that can make an overpass accident likely. For example, a tire blowout or faulty brakes could cause a driver to lose control and go off an overpass.
Contact a Personal Injury Lawyer 
Speed and reckless driving can lead to accidents—even ones that cause vehicles to go off overpasses. Breaking traffic laws, such as running red lights, can lead to serious crashes.
The Houston auto accident attorneys at the West Law Office, PLLC can help you with car accident cases in Houston. With our help, you can get the compensation you deserve. To schedule a free consultation, call 281-347-3247 or fill out the online form.
Resource:
abc13.com/woman-dies-after-crash-southwest-freeway-car-off-overpass-highway-59/11061323/