Driver Killed After Hitting Tree In Houston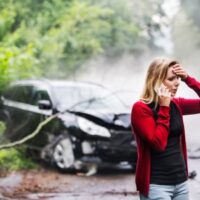 In a typical car accident, a vehicle is most likely to hit another vehicle. However, sometimes fixed objects like trees are involved. This is what recently happened in Houston, but sadly, the incident resulted in death.
The fatal accident happened on the afternoon of September 27 in the 5500 block of West Fuqua Street. The details of the crash are unknown, but a gray sedan hit a tree. The driver died at the accident scene.
Car Accidents Involving Trees
While most car accidents involve other vehicles, sometimes a fixed object is involved. The most common fixed object is a tree. Crashes involving roadside trees are often deadly, resulting in more than 3,000 deaths in the United States every year.
Car accidents involving trees and other stationary objects seem to happen quite often, but they account for only 16% of crashes. We just hear about them a lot because they tend to result in fatality. Also, these crashes tend to occur on the side of the road, and because they're not blocking the road, you're bound to see them for a longer period of time.
Besides trees, drivers also tend to hit fixed objects such as utility poles and traffic barriers, as well as objects that tend to be part of the road, such as embankments and ditches. When it comes to location, it's evenly split: 50% in rural areas and 50% in urban areas. However, these fixed object crashes are more likely to occur at night for various reasons, including the following:
Alcohol use. Intoxication can impair judgment and slow down reaction times, making it more likely for a driver to hit a tree. In fact, in 2019, more than 40% of drivers who hit a fixed object had a blood alcohol content (BAC) above the legal limit.
Excessive speed can result in loss of control. This can cause a motorist to go off the road and hit a fixed object such as a tree.
Driver fatigue. When a driver is excessively tired, they may nod off behind the wheel. This can cause them to go off the road and hit a tree.
Poor visibility. Nighttime driving, fog, and heavy rain decrease visibility for drivers, which can make them more likely to hit a tree or other fixed object.
Contact a Personal Injury Lawyer 
Trees are large, heavy objects. Hitting a tree with your vehicle will likely result in significant damage—both to the vehicle and to the tree. In addition, anybody involved could suffer serious injuries and death.
Were you injured in a car accident in Houston? Whether your crash involved one vehicle, multiple vehicles, or fixed objects, the Houston auto accident attorneys at the West Law Office, PLLC can help you file a claim for compensation. We can assist you in obtaining financial recovery for medical bills, lost wages, property damage, pain and suffering, and other damages. Fill out the online form or call 281-347-3247 to schedule a free consultation.
Resources:
abc13.com/driver-crashes-into-tree-car-accident-fuqua-street-deadly-crash-southwest-houston-investigation/11054052/
irf.global/wp-content/uploads/Bradley-Winkelbauer-The_Killer_Tree_Problem.pdf