The Consequences of Truck Drivers Engaging in Distracted Driving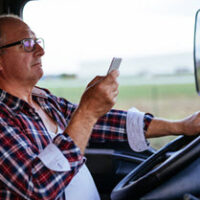 We hear a lot about the issue of texting and driving, but most of us do not connect this with those driving large commercial trucks, but rather, young people driving compact cars and passenger vehicles. However, the issue of commercial truck drivers texting and driving is a serious one: According to the Federal Motor Carrier Safety Administration (FMCSA), of the thousands of trucks involved in fatal crashes in 2017, distraction/inattention was the second most common factor for large truck drivers involved in fatal crashes. In 2018, almost 5,000 large trucks were involved in fatal crashes, a more than 50 percent increase since 2009.
Unfortunately, this continues to be a serious issue, and the consequences of taking your eyes off the road when operating a commercial truck are severe, given that these vehicles weigh several tons more than average passenger vehicles, and can often result in incapacitating injuries and/or death when they collide with smaller passenger vehicles.
Distracted Driving Laws for Truck Drivers: Full Ban of Cell Phones
In fact, this became such a serious problem that, in 2010, FMCSA put a federal ban in place for all truck drivers, prohibiting distracted driving, regardless of which state they were traveling in, and defining "distracted driving" as including a ban on dialing, holding, reaching, reading, and texting using a mobile device. The National Transportation Safety Board then took the issue a step further and banned hands-free devices as well as of 2012.
Texas Commercial Motor Vehicle & Distracted Driving Crash & Injury Statistics
Yet in spite of these laws, this issue is still a serious one here in Texas, which sees the most trucking traffic overall in the nation. According to the Texas Department of Transportation, in 2018, there were more than 37,500 commercial vehicle (trucking) crashes in the state, accounting for more than 600 fatalities and 1,360 suspected serious injuries. Texas also experienced more than 96,000 total crashes in 2018 solely due to distracted driving, with close to 400 fatalities and 2,360 suspected serious injuries.
Texas Family Awarded Almost $90 Million in Egregious Truck Accident Lawsuit
In 2018, the surviving members of a Texas family were awarded close to $90 million in connection with a fatal crash that involved a truck crossing a median and colliding with a tractor-trailer in Texas, causing serious injury and loss to a woman from Houston who suffered serious brain injuries and the loss of her son, who died in the crash, as well as catastrophic injuries to her two other children. While a student driver was reportedly operating the big rig at the time, questions remain as to whether he was engaging in distracted driving, and this could have possibly caused him to drive over the median, causing the accident.
If You Have Been Hurt in A Truck Accident, Contact Our Houston Truck Accident Attorneys Today
If you or a loved one has been involved in a commercial truck accident, contact the Houston truck accident attorneys at The West Law Office for a free consultation today to find out more about our extensive experience in helping those injured in these accidents to recover the compensation that they need.
Resources:
fmcsa.dot.gov/safety/data-and-statistics/large-truck-and-bus-crash-facts-2017
federalregister.gov/documents/2010/12/21/2010-31736/drivers-of-cmvs-restricting-the-use-of-cellular-phones
freightwaves.com/news/werner-verdict-texas-crash
ftp.dot.state.tx.us/pub/txdot-info/trf/crash_statistics/2018/32.pdf
ftp.dot.state.tx.us/pub/txdot-info/trf/crash_statistics/2018/30.pdf
cnn.com/2011/12/13/us/ntsb-cell-phone-ban/index.html
https://www.houstonpersonalinjury.law/with-trucker-safety-rules-suspended-dangerous-behaviors-can-lead-to-more-accidents/