Protecting Staff from Workplace Violence in Emergency Rooms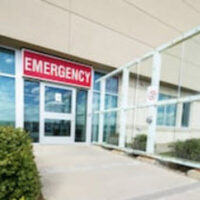 We've previously discussed just how dangerous certain types of professions can be in terms of workplace injuries, especially in the healthcare sector. A previous study revealed that one in four nurses are assaulted on the job, while also suffering from a number of additional workplace violence, such as verbal attacks.
However, unfortunately, according to the Bureau of Labor Statistics, violence towards both doctors and nurses in emergency rooms specifically is five times the national rate of all other private industries. In fact, according to a 2018 survey, almost 50 percent of more than 3,500 doctors in emergency rooms had been assaulted almost 100 percent of the time by a patient. As a result, the violence towards staff in these emergency rooms is known as the "dirty little secret of healthcare" by some. Some of the patients who end up assaulting staff are under the influence, suffer from mental illness, and/or experiencing severe stress due to the emergency they are experiencing. As a result, many staffers who have been injured have to miss a number of days of work and undergo rehabilitative care. Some will also live with these injuries for the rest of their lives.
It's Unsafe for Staff & Patients
There have been lawsuits brought against hospitals over unsafe working conditions; specifically, allegations of dangerously low staffing levels in emergency rooms. However, it isn't just the staff who are at risk due to these issues: A number of practitioners have noted that it can be difficult to provide good patient care when workers constantly worry for their safety, and other patients are also constantly witnessing violence, which negatively affects their safety.
Turning A Blind Eye
While the Occupational Safety and Health Administration collects data on injuries due to, for example, a slip and fall, the agency does not collect data on physical assaults in a hospital. In addition, a number of workers have also noted that workplace culture continues to foster acceptance of these practices, as well as abstaining from pressing charges, which is reportedly making the issue even worse. Because it is being tolerated, overall, workplace violence is increasing. Yet the challenging environment of the emergency room – and the circumstances under which patients end up there – does not justify behaving violently towards the staff there. In the same way that individuals who work in court or in a restaurant are not expected to tolerate assault, those who work in a hospital should be held to the same standards, and should feel protected and safe at work.
Contact A Texas Workplace Injury Attorney
If you have been injured in a Texas emergency room, there is no excuse for it, and it is not acceptable. Contact our Houston workplace injury attorneys at The West Law Office today to find out about your rights and compensation to help you fully recover.
Resources:
healthleadersmedia.com/clinical-care/er-doc-protect-your-staff-workplace-violence
tampabay.com/news/health/2019/09/03/former-nurse-sues-st-josephs-hospital-claiming-unsafe-staffing-in-emergency-room/
nbcnewyork.com/investigations/violence-toward-e-r-nurses-and-doctors-is-the-dirty-little-secret-of-health-care/2296617/
https://www.houstonpersonalinjury.law/the-most-common-office-injuries/