Motorcyclist Injured In Texas Hit And Run Accident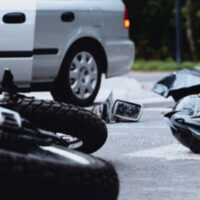 Hit and run accidents can be frustrating. When a motorist is involved in a crash, they are required to stop and remain at the accident scene until police arrive. Unfortunately, this does not always happen. For some reason, motorists will flee the accident scene while the victim is injured or killed.
A motorcyclist was seriously injured in a hit and run crash in Wichita Falls. The accident occurred on the evening of April 12 on Maurine Street at Central Freeway. The motorcyclist was stopped at a stop sign when he was hit head-on by a Ford F-150. The truck then dragged the motorcycle rider while he was still on the motorcycle.
The impact caused the motorcyclist to catch fire. He was taken to a local hospital to be treated for burns. He is expected to survive. The vehicle, a white Ford F-150 pickup truck, has not yet been found. Police are still looking for the suspect.
Burns After Car Accidents
Automobile accidents can sometimes lead to fires. This is because vehicles contain fuel, which is highly flammable. When the vehicle catches fire or a hot chemical touches your skin, you can suffer serious burns.
While many burns are minor and heal on their own after a few weeks, some fires can lead to serious burns, typically of the second or third degree. This means that multiple layers of skin and even fat can be burned. These burns can lead to blisters and redness, as well as significant pain and scarring. In severe cases, they can also cause nerve damage and loss of mobility.
Treatment may require bandages and ointments. In some cases, it can be more intense. Surgery and skin grafts may be required to get the skin back to normal—or as close to normal as possible. Recovery may also include medications and injections to treat pain and inflammation and prevent infection. You may need to stay in a burn center during your recovery. Burn center staff can provide you with specialized care. If you have other injuries, a burn center can treat those as well to prevent complications.
Speaking of complications, they can happen if burns are severe and not treated right away. Complications may include bacterial infections, respiratory problems, dehydration, scarring, and amputation. If your complications are not taken care of promptly, you could go into shock and die.
Burns can also cause emotional and mental distress. If your appearance has been altered, you may lose self-confidence. You may be upset about what happened or anxious about the future. You may also suffer from nightmares, insomnia, and post-traumatic stress disorder (PTSD).
Contact a Personal Injury Lawyer 
Car accidents can be complex, especially if the liable party leaves the accident scene. Obtaining compensation for damages can be difficult. You could be stuck paying for medical bills and other expenses without the right legal help.
The Houston hit and run attorneys at the West Law Office, PLLC have experience working with these types of accidents. We can help you get the most money possible for your accident. To schedule a consultation, call 281-347-3247 or fill out the online form.
Resource:
wkrg.com/biker-dad/texas-police-looking-for-driver-in-fiery-hit-and-run-motorcycle-crash/