1 Killed, 1 Injured in 2 Separate Pedestrian Crashes in Houston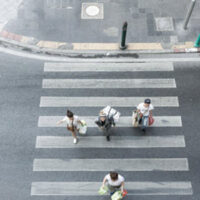 Texas is one of the deadliest states for pedestrians. Hundreds of people die while walking on the state's streets every year. Houston is one of the cities where pedestrian crashes happen most often.
Two pedestrian accidents recently occurred in Houston. One person was killed, while another was seriously injured. In both cases, the victims were crossing the street outside of a crosswalk.
The incidents occurred on September 13. The first accident occurred at 2:45 a.m. in the 12000 block of Westheimer Road in Eldridge. A man was crossing the road at a cemetery when he was hit by a car. He died at the accident scene.
The driver, an unidentified woman, was not sure that she hit someone at first. However, it was confirmed after stopping in a nearby parking lot. It was dark at the time of the crash, so that likely contributed to the fatal crash.
The second pedestrian crash happened several hours later in the 6100 block of Gessner Road. A pedestrian was crossing the street when he was hit by a vehicle. The man was taken to a local hospital. He is currently in critical condition. The driver remained at the accident scene.
What to Know About Pedestrian Crashes
According to an investigator, there were a couple factors that led to these two crashes. First is the time of day. Both of these crashes occurred before 6:30 a.m. Many drivers don't expect to see pedestrians that early in the morning, which may cause them to focus more on other vehicles in the road. In that area, the speed limit is at 35 miles per hour, so cars should be traveling at a slower speed. However, not all drivers follow the speed limit, and it's likely that they were going much faster.
While Houston is one of the most dangerous cities in the country when it comes to pedestrian crashes, many fatal accidents occur on Interstate 35 in Austin. In 2018, 42% of traffic fatalities in Austin were due to pedestrian crashes.
There are several main reasons why pedestrian crashes occur. Distractions are a main cause. Both drivers and pedestrians may not be watching where they are going, causing a crash. Many accidents are also caused by failing to ignore traffic signs and signals. Pedestrians should cross at crosswalks and avoid darting out in front of vehicles and drivers should give pedestrians the right of way. Intoxication is another factor. Many of these crashes are caused by the driver or pedestrian being under the influence of alcohol or drugs.
Contact a Personal Injury Lawyer
Pedestrian crashes can be serious in nature. Because pedestrians have no protection, they can suffer life-threatening injuries and even fatality.
If you or a loved one has been injured or killed in a pedestrian crash, get help from The West Law Office, PLLC. The experienced Houston pedestrian accident lawyers can help you recover compensation for medical bills and other damages. Fill out the online form or call 281-347-3247 to schedule a consultation.
Resource:
khou.com/article/news/local/man-fatally-struck-by-car-westheimer-road-houston/285-dbaaf853-a89e-4fa1-b10a-a27c75df1100
https://www.houstonpersonalinjury.law/woman-killed-in-houston-pedestrian-accident/