Woman Killed in Houston Pedestrian Accident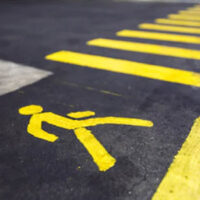 While walking is a great form of exercise as well as a convenient way to get around larger cities, it can be dangerous. Drivers of cars are often distracted and may hit pedestrians or other objects as they traverse the roadways. Drivers can also be negligent in other ways, putting pedestrians and other motorists at risk.
Sadly, a woman was killed in a pedestrian accident in Houston. The fatal accident occurred on the morning of July 10 in the 12300 block of Cullen Boulevard. The crash happened in southeast Houston in the South Acres area.
A 58-year-old woman was crossing the street when she was hit by a Toyota Highlander traveling south. The woman died from her injuries. The driver of the Highlander remained at the accident scene. They cooperated with police and were later released.
Risk Factors
While a pedestrian accident can happen anywhere and at any time of the day, there are some factors that make one more likely to occur. Most occur between 6 p.m. and midnight as visibility decreases due to the darkness. Also, alcohol use is a factor by both the driver and pedestrian. In fact, 40% of pedestrian crashes are caused by an intoxicated pedestrian, while another 18% are caused by an intoxicated driver.
Location is another factor. Roughly 75% of pedestrian accidents occur at intersections, and two-thirds occur in urban areas. In rural areas, pedestrian crashes are more likely to be fatal, likely due to a lack of sidewalks as well as higher speeds.
Age is also a factor. Children and older adults are more likely to be involved in pedestrian accidents. This is likely because children do not always understand the dangers of vehicles and may impulsively run out in front of them. In fact, pedestrian accidents are the second leading cause of injury-related death among children ages 5-14. Older adults are also at risk because they often move slowly due to mobility issues. Also, those over the age of 65 tend to experience diminished senses, such as hearing and vision. Plus, they lack flexibility and reflexes.
Surprisingly, race and ethnicity also play a role in pedestrian crashes. Minorities of all ages are more likely to be involved in a fatal crash than Caucasians. African-Americans especially face a high risk. African-American children ages 4-7 accounted for 47% of pedestrian fatalities, while those ages 8-15 accounted for 37% of deaths.
Income is also a factor, believe it or not. Lower-income households have less education and are often less aware of the risks of walking in the roadways. Those with lower income also have fewer resources, such as an adult at home to supervise children.
Contact a Personal Injury Lawyer
Sadly, pedestrians die on a daily basis. Even when a person is careful when walking through the streets of Houston, drivers are negligent.
If you were injured or killed in a pedestrian accident, contact the Houston pedestrian accident lawyers at The West Law Office, PLLC. We will aggressively fight for your rights to compensation. Schedule a free consultation by calling 281-347-3247 or filling out the online form.
Resources:
abc13.com/houston-traffic-in-texas-now-i-10-i-45/6310855/
ncbi.nlm.nih.gov/pmc/articles/PMC2859736/
https://www.houstonpersonalinjury.law/ways-to-avoid-pedestrian-accidents/