Ways to Avoid Pedestrian Accidents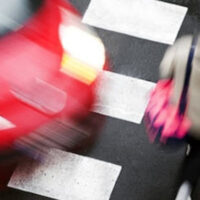 While walking is free (no gas required!) and a great form of exercise, it's not always the safest way to travel. In 2018, 6,227 pedestrians were killed in accidents in the United States. Many more are injured.
While many of these pedestrian accidents are caused by careless or distracted drivers, in many cases, pedestrians are to blame. In fact, the top three causes are darkness, drinking and distractions. Many people venture out late at night when visibility is decreased. Plus, many pedestrians are distracted by their phones and other electronic devices so they aren't fully aware of where they're going. In addition, many pedestrians are intoxicated, so they don't always have the best judgment around motor vehicles.
We are all pedestrians at some point. Whether you travel by foot on a regular basis or you mostly drive from place to place, it's a good idea to know what to do to stay safe when walking around motor vehicles. Protect yourself with these tips.
Be Seen
One of the biggest reasons why pedestrians get hit by cars is because the drivers cannot see them. Therefore, it is up to you to make sure you are seen by others. This means avoiding wearing dark clothing, especially if you are walking at night. Wear bright clothing and carry a flashlight with you. Try to walk in well-lit areas. Stay away from obstacles such as bushes, buses and other vehicles, which can hinder a motorist's ability to see you.
Be Alert
Another reason why pedestrian accidents are common is because the pedestrian is not looking where he or she is going. Stay alert and aware of your surroundings. Avoid using your phone or headphones while crossing a street. Avoid alcohol consumption, which can negatively impact your judgment. If you see vehicles, make eye contact with the driver before proceeding. Never assume they see you and will stop. Listen for any noises, such as car engines and honking, especially when walking in parking lots.
Use Care Before Crossing
Stay on sidewalks whenever possible. If there is no sidewalk, walk facing traffic so you can be better seen. Stick to crosswalks; avoid jaywalking, since it's easier for vehicles to hit you if they're not expecting you. Obey traffic signals. If it says Don't Walk, then wait until it is your turn to cross. Never dart out in front of vehicles. Always look both ways before crossing the road, even if you have the right of way. Also, be on the lookout for vehicles that may be turning. These drivers may be focused on turning and may not see you trying to cross the road.
Contact a Personal Injury Lawyer
It's often easier to get from place to place by walking, but accidents are still likely to happen. Even if you follow the safety tips listed above, you could still suffer serious injuries.
If you or a loved one was involved in a pedestrian accident, get help from the Houston pedestrian accident lawyers at The West Law Office, PLLC. These accidents are caused by negligence, so we will help prove your case and obtain the compensation you deserve for your damages. Schedule a free consultation by calling our office at 281-347-3247 or filling out the online form.
Resources:
npr.org/2019/02/28/699195211/pedestrian-deaths-reach-highest-level-in-decades-report-says
pedbikeinfo.org/resources/resources_details.cfm?id=5167
https://www.houstonpersonalinjury.law/new-research-shows-that-pedestrian-cyclist-deaths-due-to-car-accidents-are-on-the-rise/