Involved in a Hit and Run Accident? Now What?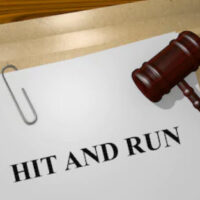 You are driving along when you are hit by another vehicle. You pull over, but the other driver keeps on going. What happens next?
It's important to know what to do in such a situation, since hit and run accidents occur quite often and chances are, you may be involved in one in your lifetime. On average, there are 682,000 hit and run crashes in the United States every year. Many of these are fatal.
While most hit and run victims are pedestrians and bicyclists, other motorists can be victims as well. It is illegal to flee the scene of an accident. However, many people do because they don't have insurance and are afraid of the repercussions. In some cases, drivers are intoxicated or may not even know that they hit someone.
In any case, it's important to take the proper steps following such a crash. Here's what you need to do.
Gather Information
This can be hard to do when a vehicle leaves the accident scene, but if possible, write down all the details you can remember about the vehicle. Knowing the make, model and color can be useful for police to successfully track down the driver. Any part of the license plate is also helpful. You should also note the direction the vehicle was headed, as well as date, time and location of the accident. If there were any witnesses, you'll want to gather their contact information.
Report the Accident
Report the accident as soon as possible by calling the police and providing them with all this information. You should also contact your insurance company to file a claim. If you can locate the other driver, you can file a claim with their insurer.
If the driver cannot be found, then your insurance company will take care of the claim. However, you may be on the hook for damages, depending on your insurance coverage. If you have uninsured motorist coverage, then your insurer will treat the accident as if the other driver was uninsured. This means that your insurance company will pay for the damages. If you don't have this insurance, you'll likely have to pay for your damages out of pocket. Make sure you have this coverage just in case.
Get Medical Treatment
If you or a passenger in the vehicle was injured in the crash, make sure you get the help you need. Time is of the essence, and if you wait too long or forego medical treatment altogether, then you might not get the compensation you need. Plus, you could make your injuries even worse if you don't treat them promptly. See a doctor or visit an emergency room right away and follow your doctor's advice.
Contact a Personal Injury Lawyer
Hit and run accidents can cause serious injury and even death. Know the steps to take after being involved in one so you can get the compensation you deserve.
The Houston hit & run lawyers at The West Law Office, PLLC can guide you through the process and ensure you understand your rights. Your insurance coverage may protect you in these situations. Find out more with a free consultation. Fill out the online form or call 281-347-3247.
Resources:
blog.nationwide.com/what-to-do-after-a-hit-and-run-accident/
newsroom.aaa.com/2018/04/hit-run-deaths-hit-record-high/