Motorcycle Safety: Wear the Right Gear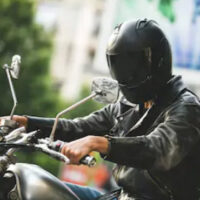 Motorcycles can be fun and exciting to ride, but let's face it—they are also very dangerous. Motorcyclists are 27 times more likely than other motorists to die in a crash. In 2017, 5,172 people were killed in motorcycle crashes.
You may not be able to prevent every motorcycle accident, but there are things you can do to keep yourself safer in the event of a crash. This means wearing the right gear. With the right clothing and equipment, you can protect your body and prevent serious injuries and even death. Here is some gear to consider for your next ride.
Helmet
Helmet laws vary by state. In Texas, all riders under the age of 21 must wear a helmet. However, riders 21 and older may ride without a helmet only if they are covered by an applicable insurance plan or have completed a safety course.
Regardless, a helmet should still be part of riding gear. A helmet may not look cool, but it offers many benefits. For one, it'll protect your head in the case of a crash, preventing a brain injury and other head trauma. This could mean the difference between life and death. Also, it'll protect you from bugs. Many helmets offer Bluetooth capabilities, so you can listen to music and answer calls. Look for a helmet that is Department of Transportation, or DOT, certified. This means that the helmet meets or exceeds certain safety standards.
Gloves
Strong, durable gloves are also important. Many riders have lost fingers or suffered serious road rash after landing on their hands after a crash. Most motorcycle gloves are made of leather and have knuckle protectors. There are many styles to consider. Some are longer than others, while some even keep you cool during the summer.
Jacket
A good motorcycle jacket will keep you warm in the winter and cool in the summer, although many motorcyclists own more than one jacket. Warm weather riding will require ventilation so you don't overheat. Consider materials such as mesh and textile. For colder weather, consider a jacket that zips down and covers the zipper for added protection. Leather is recommended to keep you warmer.
Pants
Pants can be a lifesaver when falling off a bike. Avoid wearing shorts, which offer little protection. Jeans don't offer much more protection, as cotton is very weak. Consider motorcycle pants, which are often made with Kevlar panels to add a bit of armor. There are also leather and textile pants to consider. Remember, it's not about looking cool; it's about staying safe and living to ride again.
Contact a Personal Injury Lawyer
Motorcycle crashes can be fatal. Give yourself the best chance of survival by wearing proper gear. You can prevent road rash, broken bones and head trauma.
If you were involved in a serious motorcycle accident, get help from the Houston motorcycle accident lawyers at The West Law Office, PLLC can help determine liability. Let our team assess your case and help you obtain all the compensation you deserve. To schedule a consultation, fill out the online form or call 281-347-3247.
Resources:
iii.org/fact-statistic/facts-statistics-motorcycle-crashes#:~:text=In%202017%2C%205%2C172%20motorcyclists%20died,crash%20per%20vehicle%20mile%20traveled.
bestbeginnermotorcycles.com/5-pieces-gear-need-ride-motorcycle/
https://www.houstonpersonalinjury.law/the-most-common-causes-of-motorcycle-accidents-how-to-handle-them/