Woman Receives $1.4 Million In Texas Slip And Fall Case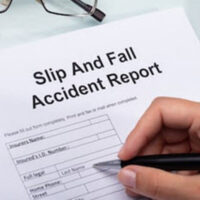 Nobody goes to the grocery store expecting to get injured. However, a routine shopping trip can become dangerous when a person slips and falls on a slippery substance, causing them to suffer serious injuries.
This was what happened to a customer who fell in a puddle at an Aldi store in Longview. The 64-year-old woman slipped and fell, causing her to suffer an injury. Aldi would not take responsibility for the accident. They would not pay six figures to settle the case.
Instead, the customer's lawyer took the case to the Tyler federal district court. This was the first civil jury trial since the courts reopened after closing due to the coronavirus pandemic. The woman was awarded $1.4 million by the jury, which was the highest verdict ever in a Texas business premises liability case. The jury awarded the victim $1,125,000 physical impairment and pain. Aldi was assigned 100% of the responsibility.
Common Slip and Fall Injuries 
While it is unknown what type of injury the woman suffered in this case, she must have suffered significant injuries to receive an award exceeding $1 million. Multi-million-dollar awards are not very common.
Hip fractures are one of the most common injuries. They are especially common in the elderly, since bones tend to become brittle as we age. Hip fractures are serious, since they often require surgery and even implants. Recovery can be lengthy.
Head injuries are also common. When a person falls, they can easily hit their head and cause serious damage. Head injuries should not be overlooked, since they are hardly ever minor. Even a mild concussion can cause permanent injuries. A brain injury can impact the entire body, so if you hit your head, you should seek immediate medical attention.
A slip and fall can also cause injuries to the back, neck and spinal cord. Common injuries include herniated discs, fractured vertebrae, neurological impairments, chronic pain, bruising, swelling and even paralysis.
Knee and elbow injuries may also occur. These injuries may cause limited movement and can be very painful. Sometimes they heal on their own, but in some cases, treatment, medication and rehabilitation may be necessary.
If you slip and fall, you could also cause damage to your extremities, since your arms and legs are likely to come into contact with the ground. Depending on how you fall, you could suffer a variety of injuries to these body parts. You could sprain your ankles or injure your wrist. You may suffer lacerations on your arms and legs. You could dislocate your knee. You may even break toes or fingers.
Contact a Slip and Fall Lawyer 
Slips and falls can happen anywhere, although they are common in grocery stores, restaurants and retail establishments. Such an incident can cause serious injuries, especially for older people.
If you were injured in a slip and fall accident, seek legal help right away. The Houston slip and fall attorneys at the West Law Office, PLLC can assess your case and hold the property owner liable for your damages. Fill out the online form or call 281-347-3247 to schedule a free consultation.
Resource:
cbs19.tv/article/news/local/customer-awarded-14-million-in-settlement-following-injury-at-aldi-in-longview/501-6a3374d2-0126-4b65-8394-98a5112549f5