Slips and Falls Due to Winter Weather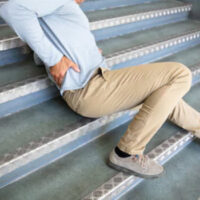 Texas has been experiencing unprecedented winter weather. Record temperatures have been recorded. The state has even seen snow, which is rare.
This has led to ice and snow on the ground, which can be very dangerous, especially for those who are not used to such weather conditions. Texans need to think about winter safety as they deal with the aftermath of this massive storm.
Slips and falls are common this time of year and they can cause a variety of injuries. Broken bones are common, especially in the wrist, ankles and hips. Older people are more likely than younger people to suffer broken bones. If you fall and hit your head, you can suffer from a traumatic brain injury, which may include a concussion, skull fracture, hemorrhage or hematoma. These all can cause seizures and affect brain and body function. Back, neck and shoulder injuries are also common. They can affect the nerves and joints and even lead to paralysis.
Avoiding Injury
If you must venture outdoors and walk on slippery ice and snow, follow these tips:
Walk slowly
Wear boots or shoes with nonslip soles
Use handrails when going up or down stairs
Keep your hands free, if possible, to help you move better
Use a flashlight if vision is limited
Stay alert; do not be distracted by phones or other objects
Be careful when entering buildings. Wipe your shoes on a doormat, if possible.
Be especially careful when entering and exiting vehicles
Look out for black ice
Filing a Slip and Fall Claim 
If you suffered a slip and fall accident on someone else's property, you may be able to file a claim for compensation. When property owners allow ice and snow to accumulate on their property, and you were injured as a result, they may be held liable.
However, there are no set values for ice and snow accumulation, so the actions that should have been taken to prevent a slip and fall accident must be considered reasonable. It's not reasonable for a homeowner to spend all night clearing their driveway in case a person slips and falls. On the other hand, a business that opens at 3 a.m. should ensure that outside conditions are safe before opening, so employees may be asked to clear sidewalks and parking lots beforehand.
In any case, you'll need evidence to prove your case. This includes photos, videos, witness statements and medical records. You can use this information to demand compensation for your injuries from the liable party. You should be able to do this without an attorney, but for more complex cases, seek legal help to improve your chances of winning. 
Contact a Personal Injury Lawyer
Winter weather can lead to slips and falls, which can cause serious injuries. A person can suffer broken bones, back and neck injuries and head trauma.
The Houston slip & fall attorneys at the West Law Office, PLLC can help you recover compensation for your injuries. We can also determine liability and help with the reporting process. To schedule a free consultation, call 281-347-3247 or fill out the online form.
Resource:
ehstoday.com/safety/article/21916603/winter-safety-stay-upright-with-these-tips-to-avoid-slips-and-falls