Preventing Slips and Falls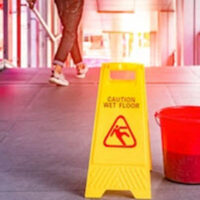 Slips, trips and falls are events that are very common. They can happen anywhere, whether you are in a grocery store, in a restaurant, on a sidewalk, at work, at a friend's house or even in your own home.
Falls can be quite serious in nature. They account for 8 million emergency room visits each year. Common injuries include broken bones, head trauma, brain injuries and injuries to the back, neck and spine. While women are more likely to suffer a slip and fall accident, both men and women die at the same rates. Falls are especially serious for elderly people, who are likely to suffer broken bones or death. In fact, 60% of deaths from falls occur in people over the age of 75. 
What Causes Slips and Trips?
Slips occur when there's a lack of traction between your feet and the surface. Slips are most likely to occur on wet or oily floors, where a substance has spilled. Trips happen when you hit something with your foot and it causes you to lose your balance. For example, a pothole in a street, a cord on the floor or a loose rug can all cause trips. 
Slip and Fall Prevention
Fortunately, there are ways you can keep yourself safe when you are out and about. The best thing you can do is clean up spills immediately. Don't wait too long because you may forget about it and not remember until it is too late. If you are in an office and can't get to a spill right away, place a Wet Floor sign over the spill to protect others.
Also, get rid of clutter. Too much stuff on the floor can impede walkways and create obstacles. Keep items off the ground.
Be careful of cables and cords. Keep them out of walking paths. If they must be on the floor, keep them taped to the ground so you don't trip.
Also, replace worn-out flooring. Older flooring may start to curl up and can cause trips. The same goes for rugs. Either keep them taped to the floor or remove them altogether.
Keep areas well-lit. Many slips, trips and falls happen when there is low light. Therefore, replace light bulbs and install more lighting in common areas. You may even want to keep a flashlight with you if necessary.
In an office environment, many workers are injured by drawers that are left open. Therefore, be sure to close drawers and filing cabinets when not in use.
Another way to stay safe is wear the right shoes. Sandals and high heels offer little support. Instead, opt for well-fitted shoes with sturdy, non-slip soles.
Contact a Personal Injury Lawyer
Slips and falls are no laughing matter. A person can suffer serious injuries and even death.
If your injury was caused by another person's negligence, make sure you get the compensation you deserve. Let the Houston slip and fall lawyers at The West Law Office, PLLC assess your case. Get started today with a free consultation. Fill out the online form or call 281-347-3247.
Resource:
safetyandhealthmagazine.com/articles/14029-preventing-slips-trips-and-falls
https://www.houstonpersonalinjury.law/mcdonalds-is-in-trouble-again-for-injuries-caused-by-their-playgrounds-but-are-they-alone/