Man Selling Flowers Killed In Crash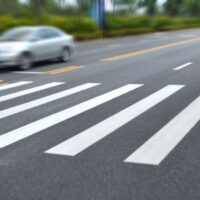 Pedestrian accidents can happen in various ways. In some cases, they can be indirectly caused by the aftermath of a car crash. This was what recently happened in Houston, causing fatality to a man selling flowers near the accident scene.
The fatal crash occurred on the evening of November 28 in the 8900 block of Airline Drive, near West Gulf Bank Road. A Kia Sedona and a Ford Explorer collided with each other. The Kia then jumped the curb and hit a man who was standing on the median. He was selling flowers at the time of the crash.
The man was taken to a local hospital, where he later died. One of the drivers remained at the accident scene, while the other driver exited his vehicle and fled the scene on foot. Off-duty police officers were working nearby and were able to arrest the man.
Causes of Pedestrian Accidents
Walking from place to place is convenient in many ways. Not only do you get exercise, but you also don't have to worry about driving or parking, which can be stressful in larger cities with limited parking lots.
However, being a pedestrian is not without its dangers. As you walk along Texas' roadways, you have no protection should you get hit by a car. Even if you are on the side of the road, you can still be involved in an accident. Vehicles often exit the road for various reasons, but mainly due to distracted driving. Also, as seen in this case, a car may go off the road due to the impact from a prior accident. It is not uncommon for an accident involving two or more vehicles to cause danger to nearby pedestrians. They can get indirectly involved in the crash.
Here are some other common causes of pedestrian accidents:
Distracted driving. While texting is a common behavior while behind the wheel, many drivers also read, groom themselves, change the radio station, talk to passengers, deal with children and pets, and engage in other activities that can cause them to become distracted.
Speeding does not just mean going over the speed limit. It could also mean going too fast for weather conditions or driving too fast to be able to stop safely.
Alcohol use. Alcohol consumption and driving do not mix. Alcohol is known to negatively impact judgment and decrease reaction time, making accidents more likely. 
Contact a Personal Injury Lawyer
Pedestrians and other auto accidents can be deadly in nature. Pedestrians are especially at risk because they have no protection.
If you or a loved one has been injured or killed on Houston's roadways, contact the Houston pedestrian accident attorneys at the West Law Office, PLLC. We have the skills to thoroughly defend your legal rights. We will help you proceed with your case and resolve any issues with the other parties. Contact our office today to schedule a free consultation. Fill out the online form or call 281-347-3247.
Resource:
houstonchronicle.com/news/houston-texas/crime/article/Man-selling-flowers-killed-in-crash-in-Aldine-area-16660129.php