Man Killed In Crash While On Morning Walk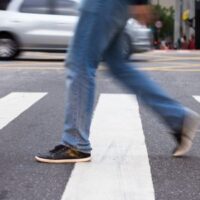 Parents who have young children know how hectic it can be in the mornings when school is in session. Not only is there the process of getting ready, but there is also the drive to school. On the way, you're bound to find many vehicles and pedestrians.
Because of this, motorists need to be careful when out and about. They need to slow down and be alert.
A pedestrian was recently killed in Houston after he was hit by a parent taking a child to school. The fatal accident occurred on the morning of October 13 on Wallisville Road.
A 65-year-old man taking his morning walk. He was crossing the road in the 15600 block of Wallisville Road, near Anthony Aguirre Jr. High School, when he was hit by a pickup truck. The man died at the accident scene.
The driver of the pickup truck, a 35-year-old man, was taking his daughter to the high school at the time of the crash. There was no crosswalk where the man crossed. It was still dark and the man was wearing dark clothing, making it hard to see him. In addition, there were no lights on in the area at the time.
The driver stopped after the crash and is cooperating with investigators. He showed no signs of impairment. It is unknown if the driver will face criminal charges.
Family members of the victim say that the man lived in the area and takes a walk every morning. He was likely heading back home when he was hit by the pickup truck. Wallisville Road was shut down in both directions after the crash, but has since reopened.
Why Crosswalks Are Important
Crosswalks are important for traffic flow and pedestrian safety. "Marking" a crosswalk can significantly improve pedestrian safety and make it easier to cross the roadway. With gas prices on the rise and many people focusing on alternative transportation, walking is considered an important means of transportation.
Pedestrian-vehicle crashes are not as common as vehicle-only accidents, but they still happen frequently. And when they do, the risk of injury is high. When a driver is traveling at speeds above 30 miles per hour, catastrophic injury or death are possibilities.
When marking a crosswalk, pedestrian safety should be the main focus. Engineers should consider elements such as:
Traffic speeds
Number of lanes
Visibility
Lighting
Proper signage
Traffic and pedestrian volume
Geometry of the roadway
Contact a Personal Injury Lawyer
Pedestrian accidents are common in busy areas, especially where there are no crosswalks. Drivers need to slow down and be extra cautious.
If you or a loved one was injured or killed in a pedestrian crash, a Houston pedestrian accident attorney from The West Law Office, PLLC can make sure your claim is handled with care. We can assist with liability and insurance issues. Fill out the online form or call 281-347-3247 to schedule a free consultation.
Source:
abc13.com/pedestrian-killed-deadly-crash-wallisville-road-harris-county-sheriff-ed-gonzalez/12323743/