Dozen Injured When School Bus, Semi Truck Collide in Lubbock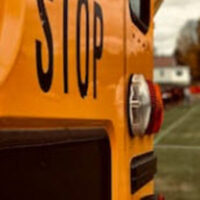 No parent wants to hear that their children were injured in a school bus crash. However, many children ride the bus to school every day, so crashes are bound to happen. A serious bus accident recently happened in Texas. While some suffered serious injuries, thankfully nobody was killed in the accident.
A school bus and a semi truck collided on the morning of March 4 at the intersection of FM 1585 and County Road 2500 in Lubbock. It is believed that the school bus driver failed to yield the right of way, causing the two vehicles to collide. There were 11 elementary school children on the bus. They were on their way to Central Elementary at the time of the crash.
The driver of the semi truck was not injured. However, the bus driver and two students were seriously injured and taken to Covenant Medical Center for medical treatment. The bus driver, a 52-year-old woman from Lubbock, was ejected from the bus. She was not wearing a seatbelt.
Nine others were taken to University Medical Center. Of those, eight had minor injuries, while one suffered serious injuries.
Types of School Bus Accidents
As COVID-19 restrictions lift and children are slowly returning to the classroom, parents may be concerned about the possibility of school bus accidents. However, rest assured that school buses are very safe. They have seat compartments that are meant to absorb the impact of a crash. The seat padding also absorbs the impact of a crash. The seat belts, as well as the positioning of the seats, also help keep children safe.
Despite all these safety features, school bus occupants can still get injured or killed in a crash. There are three main types of crashes involving school buses:
Those involving pedestrians. Most school bus-related fatalities involve pedestrians. On average, 17 people are killed each year after getting hit by a bus. Most of these accidents occur when the bus is simply driving straight.
Those injuring occupants of the bus. Poor maintenance, slick roads and negligent drivers can cause a bus crash to occur. While school buses are considered to be some of the safest vehicles around, serious injuries and fatalities do happen.
Those involving other motorists. When the bus' red lights are flashing, you are legally required to stop. And while you may follow these rules, not all motorists do. You may be stopped behind a bus, only to get rear-ended by a vehicle. Or maybe your vehicle collides with the bus itself. The occupants of other vehicles are more likely to die in a school bus crash than those on the bus. 
Contact a Bus Accident Lawyer
 It can be scary when a school bus full of children is involved in an accident. Fortunately, school buses are built tough and very safe, so nobody was killed in this incident.
If you were involved in a bus accident, the Houston bus accident attorneys at The West Law Office, PLLC can help. We can guide you through the process and make sure you receive appropriate medical care. Schedule a free consultation today by calling 281-347-3247 or filling out the online form.
Resource:
everythinglubbock.com/news/local-news/school-bus-accident-reported-thursday-morning-in-lubbock-county/